Establishing a Breastfeeding Routine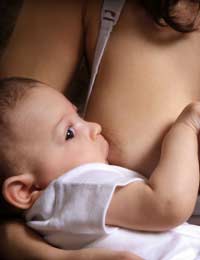 Establishing a breastfeeding routine may seem awkward or uncomfortable at first, but through trial-and-error mothers will come to know what works best for them when they are feeding their children at the breast. This routine will likely come to be second nature for breastfeeding mothers and after a few weeks little thought will be needed when breastfeeding. Among other things, such a routine should take into account the mothers' needs prior to breastfeeding, preparing for breastfeeding and the location of breastfeeding.
A Mother's Needs Prior To Breastfeeding
It can sometimes feel like a mother's needs must be sacrificed when she drops everything to feed her baby at her breast, but this is untrue. In fact, mothers must make sure to look after their own needs so that they can stay fit and healthy while breastfeeding. Breastfeeding mothers should be drinking at least six glasses of water per day and follow a healthy diet recommended for breastfeeding mums. Breastfeeding mothers should also take care to use the bathroom as needed before settling down to breastfeed and should wash their hands before breastfeeding.
Preparing For Breastfeeding
Once breastfeeding mothers have taken care of their own needs, they can begin to gather the supplies they will need while breastfeeding. Many mothers, after determining what they require while breastfeeding, will keep all of these items in a basket or bag so that they can access them easily at all times. Many mothers will find that having a beverage on hand, a book or magazine to read or even a laptop to play with are all useful for staying comfortable while breastfeeding. Many mothers will also find that pillows, burping cloths, nappies, wipes and breast pads are also useful to have on hand while breastfeeding. Finally, some mothers enjoy turning off electronics and the phone prior to breastfeeding so that they can have uninterrupted time with their babies.
Location Of Breastfeeding
While many mothers are happy to breastfeed wherever they find themselves when their babies are hungry, others find that a more set routine helps them in the first few weeks of breastfeeding. During this time it can often be helpful to have a designated room or chair available for breastfeeding. Mothers may find that a variety of pillows help them to sit comfortably and maintain a comfortable position for their babies while breastfeeding, and others may find that a private and even darkened room feels better to them while they breastfeed. As long as the space is clean and safe, a mother's personal preferences can dictate the preferred location for breastfeeding.
Establishing a breastfeeding routine often helps mothers feel more comfortable and confident during feedings. Such routines often including tending to the mother's own needs prior to breastfeeding, preparing supplies for breastfeeding and deciding on a particular location for breastfeeding. Breastfeeding routines will likely change over time, but as long as both mother and baby are safe and happy with the way in which breastfeeding is carried out then there is likely no reason to worry about the routine that makes this happen.
You might also like...