Breastfeeding and Mother's Nutrition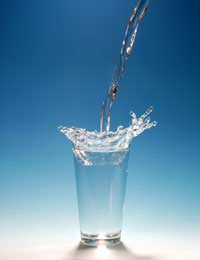 Mothers who are breastfeeding must pay attention to their own diet and nutrition. Not only do breastfeeding mothers need a minimum of 500 extra calories per day to help make up for those used in lactation and feeding, but the quantity of breast milk produced by a mother depends upon her own nutrition. What is transmitted via breast milk to a baby may also depend upon what the mother herself ingests. To this end, mothers should eat a well balanced diet, avoid pollutants and stay hydrated while breastfeeding. Mothers should also remember that their bodies will use its fuel first for lactation, so while a baby may still be fed just fine, skimping on healthy nutrition can directly affect a mother's own health and wellbeing.
Eating Well Balanced Diet
It is estimated that a nursing mother needs at least 2,500 calories per day to sustain her daily activities, or even 2,800 calories per day if she is planning to breastfeed for longer than three months. Most medical professionals agree that feeding a baby solely on breast milk for the first six months of life is optimal for child development, so mothers committed to this plan will need to increase their caloric intake. However, mothers should not rely on sweets or snacks to fill this void. Instead, mothers should strive to get most of their calories from nutritious sources such as fruits, vegetables, breads, cereals, dairy products and protein. Sneaking in treats every now and then will not be harmful to the milk produced by breastfeeding mothers, but such items should be eaten in moderation rather than allowed to become an integral part of the diet.
Avoiding Pollutants
Just as with pregnancy, what a mother ingests may be passed along to her breastfeeding baby. Things such as caffeine, alcohol and tobacco can all be passed to babies via a mother's milk. Drugs, whether illicit or prescription, may also be able to be passed to babies. Breastfeeding mothers who take medication should consult with their doctors about the type and dosage of the medication in relation to their breast milk. Otherwise, mothers should strive to stay away from pollutants that could infiltrate their breast milk and get into their babies' bodies.
Staying Hydrated
Staying hydrated has a direct effect on how much milk a mother is able to produce. Nursing mothers must take in about 10 glasses of water per day to stay hydrated. Also ingesting natural juices, broth-based soups, milk and juicy fruits can help mothers up their liquid intake. To make sure that they are getting enough liquid, nursing mothers should observe their own urine. Darkly coloured urine and strong smelling urine can both be indicators that a mother is dehydrated and needs to drink more water.
Mothers must look after their own diet and nutrition to breastfeed as successfully as possible. If a baby is not getting enough nutrition from breast milk then supplementing his or her diet with formula may be a good idea. Lactation consults and GPs can provide support for nursing mothers and answer further or more specific questions about nutrition, hydration and breastfeeding.
You might also like...