Weaning a Child Away from Breastfeeding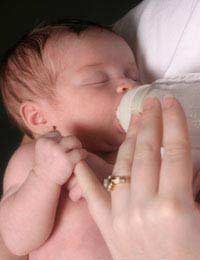 Weaning a child away from breastfeeding will be a different process for every mother and baby. There is no right or wrong way to cease nursing, and every parenting expert in the world will have slightly different tips. Weaning gradually, expressing milk and staying in sync with the baby are all great ways to start weaning a child away from breastfeeding.
Weaning Gradually
The United Nations advises that the healthiest start to a child's life begins with six months of exclusive breastfeeding. Many mothers and babies can not or choose not to breastfeed for this long, but it is recommended that mothers strive to breastfeed for at least three months before starting towards weaning. When weaning is desired, gradually weaning a child away from the breast by first supplementing the least favoured feed with a cup or bottle and then adding one more cup/bottle feedings at a time is a popular method. Abruptly ending breastfeeding usually causes frustration or anger in a baby, and it can be uncomfortable for a mother who has not acclimated to producing less and less milk. Obviously both of these situations are too be avoided if possible.
Expressing Milk
Mothers who are weaning their babies away from breastfeeding often find that their breasts become hard and/or sore if they produce more milk than their baby consumes. Some mothers may even suffer from engorgement or plugged ducts if their milk begins to back up in the milk ducts. If this milk overflows into surrounding breast tissue then infection can result, or even an abscess. To avoid these problems women who are weaning their babies from the breast often find that expressing their milk can help keep their breasts from discomfort. If a woman does notice pain, redness, heat or lumps in the breast then she should consult with a doctor or midwife for further information or treatment options.
Staying In Sync
Staying in sync with a baby's needs is paramount while attempting to wean him or her from the breast. Mothers must remain vigilant that a child is taking in enough milk and getting proper nutrition. Checking a baby's nappies and weight are both good ways to determine if (s)he is staying hydrated and getting enough calories. Watching for a baby's feeding cues and the pace at which a baby seems to want to wean often helps mothers determine how gradually they will ultimately try to transition. For mothers who only proceed at the child's pace it can take up to three or four years to fully wean the child. Mothers hoping to wean more quickly can help make the transitions such as by moving to a cup rather than a bottle, moving away from feedings in the same place or even chair that breastfeeding usually occurs, and introducing solid foods after a baby is six months or older.
Lactation is a natural process, but all breastfeeding mothers must wean their children at some point. Midwives, lactation consultants and experienced mothers are all valuable sources of information about weaning a child away from breastfeeding.
You might also like...