I Suffered With Mastitis: A Case Study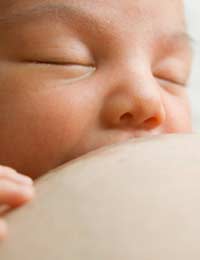 As Karen sits comfortably with baby Thomas in her arms sucking forcefully on his bottle of milk, both mum and baby seem very content. But just a few weeks ago it was a different story and Karen was struggling with breast feeding.
"Thomas is my first baby and I wanted to do everything to give him the best start in life. I knew already that breast feeding was the best option as my breast milk can give Thomas some immunity to infections until he is able to fight them off himself," says Karen.
Thomas was born in hospital and Karen lost quite a bit of blood during the birth so stayed in for three days after she had to have a blood transfusion. "I felt very weak and overwhelmed and different nurses kept trying to help by telling me different techniques to get Thomas to feed but I was just really confused," she remembers.
Thomas Comes Home
When mum and baby got home, Karen thought things would improve but then her problems really only just started. "I was exhausted and Thomas was fractious and hungry all the time. He would try to latch on and be very impatient. Just as the milk started coming he would pull and tug and then scream, so it was 'stop, start' all the time," Karen explains.
Again the advice from mum, mum-in-law and two health visitors was well meaning, but conflicting. "I tried everything but the whole process just made me anxious, which obviously didn't help. One of the health visitors suggested a breast pump and expressing milk but I didn't want to do that. I felt like a cow in a milking shed!" exclaims Karen.
Thomas Loses Weight
As the first week at home with Thomas went on, Karen became more frustrated. She was still continuing to try to get Thomas to feed but successful feeds were few and far between. "When he did feed it was great – but he was still so rough and I was getting very sore," says Karen. The health visitor recommended nipple shields and a soothing cream, which Karen used, but nothing was really providing a solution.
When Thomas was 10 days old, yet another different health visitor came round and weighed Thomas and found that he had lost nearly 3 ounces in weight since birth. "She was really quite aggressive and accused me of not trying with the feeding. I had done nothing but devote myself to it for what seemed like forever and I just told her to leave. I was branded a 'difficult' mother but I had had enough," says Karen.
Renewed Efforts
Karen's mum moved in for a while and took over everything else, preparing regular meals for Karen and doing a lot of the changing and washing so that in between feeding, Karen could just rest and try to get some strength back. "I was very anaemic despite the blood transfusion and hardly had any time to eat properly, so this was a big help," she says.
As the next week went on, Karen's efforts did start to pay off but then she began to feel very odd. "I expected to produce more milk but my breasts became very swollen and tended and I felt like I had flu. I was hot and cold and ached all over," she remembers.
A visit to the GP was booked and Karen explained how difficult she was finding feeding. "The GP was very good and when she examined me she told me I had mastitis. I was amazed – I thought only cows got that and I was reminded of my disgust at the thought of the breast pump," says Karen.
Mastitis Affects Humans Too
The GP explained that mastitis could happen in breast feeding mums and was quite common. One of Karen's milk ducts had got blocked and the pulling and tugging had inflamed the tissue, leading to a bacterial infection in both her breasts. "I was put on antibiotics straight away and the GP then said something that made me sob with relief – she told me to switch Thomas to bottle feeding with formula milk as I could no longer breast feed," says Karen.
Karen's mum bought all the equipment and the formula and that afternoon Karen fed Thomas his first bottle. "I thought we would be in for trouble but as the teat went into his mouth his eyes opened very wide and he started to suck. The whole bottle disappeared in minutes and then he slept for four hours. For us, this was definitely the right decision although I do still regret that breast feeding didn't work. I will certainly give it another go if we have another baby," she concludes.
You might also like...