Deciding to Breastfeed for the Right Reasons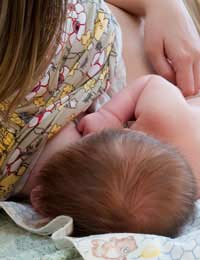 Breastfeeding is a personal decision, one that a woman should not feel pressured into making nor feel judged if she chooses not to or ultimately can not breastfeed. While women may decide to or not to breastfeed for a variety of reasons, there are some factors involved that are more common than others. Ability, cost, desire, nutrition and time are all common factors consider by women who must decide if they will be breastfeeding or not.
Ability
Regardless of whether or not they want to breastfeed, some women can and some women can not. Women who have undergone breast surgery such as mastectomy, breast augmentation or breast reduction may not be able to breastfeed because lactation may be impossible for them. Some women may physically be able to produce milk, but infection may stop them from nursing their babies. Still other women may suffer from HIV or tuberculosis, both of which make breastfeeding inadvisable. Women taking antiretroviral medications, illicit drugs, taking cancer chemotherapy treatments or undergoing radiotherapy are also advised not to breastfeed.
Cost
Some women decide that feeding their babies breast milk, whether from the breast or expressed, is best because it eases the financial burden of purchasing formula. It is estimated that in the first six months of life, feeding a baby formula can cost a family several hundred pounds.
Desire
Whether or not a woman desires to breastfeed is another factor that comes into play when ultimately deciding what type of feeding a baby will receive. For some women breastfeeding is seen not only as nutritionally superior, but also a time for mother and baby to bond. For other women, breastfeeding is seen as painful and disruptive and not necessarily any more nutritionally sound than formula. In some families, what the father and any other existing children think would be best may be factored into a decision as well.
Nutrition
Mothers may decide to breastfeed or not to breastfeed based on the nutritional factors of this act. For some women, the need to take in an extra 500 calories while nursing can be prohibitive, as can the advice to avoid cow's milk, peanuts, wheat, tomatoes, eggs and citrus fruits while breastfeeding. Other women will happily adjust their own nutrition because their babies are receiving a great combination of fat, vitamins, minerals and antibodies direct from their mothers. However, if a baby is diagnosed with a food allergy or a milk related allergy then breastfeeding may become inadvisable.
Time
Another factor that may steer women towards or away from breastfeeding is the amount of time each day (and night) that they have to engage in it. For example, women who must return to work quickly or work during night shifts may not be as keen to breastfeed as women who have a long maternity leave or will be stay at home mothers. Expressing breast milk into bottles is one way that many women find to compromise when they run low on time.
Whether or not to breastfeed is a decision that most mothers must make at one time or another. Deciding what is best for the mother and baby as well as other family members should be uppermost in a mother's mind when making this decision.
You might also like...