What is Herceptin?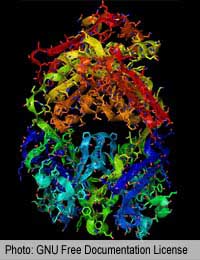 Herceptin is a relatively new drug that is used to treat breast cancer. It is a biological therapy based on a monoclonal antibody that attaches to receptors on the surface of breast cancer cells to slow or stop their growth and division. The scientific name for the antibody is trastuzumab.
Like all cancers, breast cancer arises when some of the cells in the breast start to divide out of control, forming a tumour. This is usually felt as a small lump.
Treatment for breast cancer involves removing the tumour by surgery and then following up with therapies that kill of any remaining cancer cells. Chemotherapy, radiotherapy and biological therapies are all used to prevent even one cancerous cell persisting in the body as this could start dividing and cause secondary cancer.
If breast cancer cells within a tumour have surface receptors that bind to human epidermal growth factor, a protein that stimulates cells to divide and grow, the breast tumour will grow much faster as the growth factor binds to it. Human epidermal growth factor is a natural growth factor that is produced in the body all the time and that is important for the growth and repair of healthy cells and tissues.
Reducing the amount of the growth factor in the body would not be sensible, so herceptin was developed to block the receptors specifically on breast cancer cells, so that they could no longer be stimulated by the growth factor.
Why Does Herceptin Help?
It is thought that a breast tumour that is growing more slowly can be more easily dealt with by the body's own immune system. Immune cells and antibodies are produced to all tumour cells but their effects are usually overwhelmed by the rate of growth of the rapidly dividing cells. When herceptin is used in combination with traditional chemotherapy, such as taxanes or anthracyclines, the slower growth of the tumour also makes the chemotherapy work more effectively.
It is important to remember, though, that herceptin will only help women whose tumour cells have the human epidermal growth factor receptor, called HER-2. If the cells lack this receptor, there is no point using herceptin to treat that particular tumour.
The History of Herceptin
Herceptin was originally trialled on women with quite advanced breast cancer, where it was combined with chemotherapy treatment. Later, another set of trials showed that women with very early stage breast cancer who were treated with herceptin for one year had a greater chance of surviving longer, so it is now used routinely for all women whose breast cancers express the HER-2 receptor.
The drug is expensive, however, and there was some controversy when it was first launched for early stage breast cancer. Some experts thought that there was not enough evidence to show that it helped enough to justify its cost. Others questioned whether treatment needed to continue for a whole year. Only more trials can provide these answers and these are ongoing. A large trial comparing one year treatments with six months of treatment is due to report in 2010. If this shorter treatment is effective, it could help make each treatment with herceptin cost substantially less.
Herceptin Side Effects
Like any drug, herceptin is not without side effects, although it is generally better tolerated than traditional chemotherapy. One known side effect of herceptin is that it can cause heart problems, so women with breast cancer who also have a medical history of heart conditions such as angina, heart attacks or high blood pressure are usually not given herceptin as the risks outweigh the benefits. Other minor symptoms include localised pain in the region of the tumour, flu symptoms, diarrhoea and headaches. These are regarded as more minor side effects and can be treated using paracetamol and other mild pain killers.
You might also like...