How Was Tamoxifen Discovered?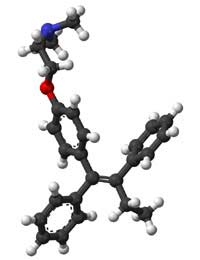 Tamoxifen is now one of the most widely used drugs used to treat breast cancer to prevent the disease coming back. However, Tamoxifen was not originally intended to be a breast cancer drug, it was originally researched as a potential morning after contraceptive pill in the late 1950s. A patent was filed by Arthur Walpole and colleagues at ICI in 1962, but patent protection was repeatedly denied in the US until the 1980s.
It was never used as a contraceptive, although it did receive marketing approval in the US as a fertility treatment. Although, at the time, the link between oestrogen and breast cancer was known, it was not a priority. The fact that Tamoxifen survived as a compound was down to the enthusiasm of Arthur Walpole. The story of the development of Tamoxifen is an interesting illustration of how a very useful drug almost never saw the light of day.
The Early Studies
A clinical study demonstrated significant clinical benefit of Tamoxifen treatment in women with advanced breast cancer in 1971, but then ICI almost terminated the further development of Tamoxifen in 1972. Walpole again stepped in and made the case for marketing the drug for late stage breast cancer, which they did in 1973.
It took another 4 years to obtain approval to go ahead from the USA Food and Drug Administration, the official body that oversees the use of new drugs. However, even after it had been approved for use, the drug hardly made any impact as the market for hormonal agents in breast cancer was very small.
Trials in Women With Early Stage Breast Cancer
In 1980, the first trial showing that Tamoxifen could improve survival in patients with early stage breast cancer when given in combination with chemotherapy was published. At the time, there was no realisation that Tamoxifen only had benefit in women with hormone receptor positive breast cancers.
The women in the research groups had both hormone receptor positive breast cancers and receptor negative breast cancers, so the results were clouded and relatively unimpressive. The research only continued because the side effect profile of Tamoxifen was good compared to chemotherapy, which produced severe toxic side effects.
Final Proof that Tamoxifen is Valuable
It was not until 1998 that the meta-analysis of the Oxford based Early Breast Cancer Trialists' Collaborative Group showed definitely that Tamoxifen saved lives in early breast cancer. The process of starting to realise the value of Tamoxifen in breast cancer took 25 years, and would not have happened at all if Walpole had not pushed it forward in the 1970s and 1980s.
We now know that if women treated for early stage hormone receptor positive breast cancer take Tamoxifen for five years, the treatment reduces the risk of cancer recurrence by 40% and reduces the number of deaths specifically due to breast cancer by 31%. A meta-analysis that assessed the long-term effects of systemic adjuvant therapies on breast cancer recurrence and survival concluded that the breast cancer mortality rate could be halved if anthracycline-based chemotherapy was followed by 5 years of adjuvant Tamoxifen in middle-aged women with oestrogen receptor-positive disease.
Studies Still in Progress
Tamoxifen has also been shown to improve the 10-year survival for women after breast cancer surgery but there is uncertainty about the best length of treatment, or how long the benefits may last after 10 years. New trials are still uncovering just how valuable Tamoxifen is as a breast cancer drug.
You might also like...