Fundraising Ideas for Breast Cancer Support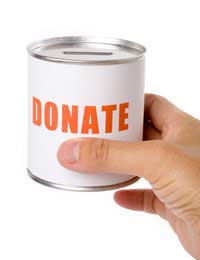 Like most cancer organisations, those dealing specifically with breast cancer will almost always be glad for some help with fundraising. Whether the money is needed for medical research, patient services, family support or something else entirely, fundraising for a cause such as breast cancer will almost always be greatly appreciated.
If you are interested in organising a cancer fundraiser, get in contact with a specific cancer charity, hospital, hospice or group and find out if they would be willing to accept the funds that you are able to raise. It may be that you need to complete an established procedure before working with a specific group, but don't let a little paperwork get in the way of doing a good thing for a good cause!
Theme Days
Theme days, such as a dress down day at a corporation, a free dress day at a school or a pink day to specifically support breast cancer, can be very easy and very popular ways to raise funds fast. Simply clear the idea with the relevant authorities, advertise the theme and charge people a set fee for the right to wear the relevant item. Then watch as the money rolls in and everyone has a good time.
Sports Events
An old stand-by on the fundraising spectrum is to ask people to sponsor someone at a sports event. Whether it's a 5k fun run, entry to a charity football tournament or a whole marathon, as long as people guarantee their support then the individual involved can feel great about raising funds and joining in.
Gala Events
Gala events can be costly and time consuming, but they can also raise a large amount of money. Charity balls, silent auctions, lavishes lunches and afternoon teas – all such events will require great diligence in planning but the high tickets prices should help bring in good money.
Pub Quiz
A pub quiz is always a fun idea if you can find a venue willing to host one. All you need to do is charge the entry price either per contestant or per table, corral either a grand prize or a few smaller door prizes and start thinking about some interesting questions. Pub quizzes can have a theme, such as a specific individual's life if the fundraising effort is for that person, all sports questions or even questions about the local area. A word of warning, however – pub quizzes work best earlier in the evening when contestants are still fresh and everyone usually has a better time if they can answer the majority of questions.
Small Games
Small games, such as guessing the number of buttons in a jar, guessing on the actual price of a prize and even small games of bingo, tic-tac-toe or hangman can all help bring in some cash. Keep the entry price very low if you have a good number of participants, such as at a school or larger business, and make sure you have someone around whose good at counting up the change.
Raffles
Asking a local business to donate a prize for a community, business or school raffle can be a great way to get people interested in purchasing a ticket. Just make sure that the prize is appropriate to the venue and that you have someone good at maths helping to make change for the tickets.
Company Matching
Speak with a company's HR department and see if they would be interested in matching any donations that their employees make towards a particular cancer charity. When HR agrees, make the matching scheme known to everyone and give it at least a week so that employees can decide how much to contribute. If you can, publicise the total and then see if you can all beat it the next time around.
Car Boot Sale
Car boot sales work best if you can organise enough people to donate goods and can appeal to buyer's hearts by letting them know that the proceeds will go to helping those with cancer. Advertising before the event should also increase the number of buyers on the day.
Spare Coins Drop Box
Spare coin drop boxes are incredibly easy. Simply get permission to leave them, let others know their location and then make sure that you have plenty of spare time to count up all of the coins that are dropped in.
Hobby Workshops
Hobby workshops take some planning, but they can be a fun time for everyone involved. Decide what you would like to talk about, how best you could instruct others and then decide how you will advertise the event. Charge participants an entry fee, provide them with all the materials that they will need and then get ready to have some fun. Hobby workshops do work best with practical hobbies such as: crafts, gardening and cooking. If you are thinking of doing something a little unusual it may be best to check with others about how best to structure your event.
Fundraising ideas for breast cancer support are only limited by your imagination. Start brainstorming today about how you can help raise funds for breast cancer support!
You might also like...