What is Triple Negative Breast Cancer?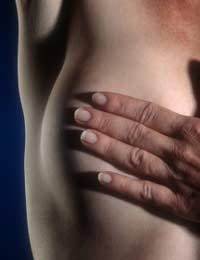 Triple negative breast cancer is the term used to describe breast cancers that do not express receptors for the two sex hormones oestrogen and progesterone, and that do not have the HER-2 receptors. They account for only 15 per cent of all breast cancers that occur in women worldwide.
In triple negative women, because their breast tumours do not express oestrogen or progesterone receptors, and are HER-2 negative some of the major drug therapies cannot be used. Tamoxifen, the aromatase inhibitors and herceptin are of no value because they only work by targeting the receptors that are absent in triple negative tumours. Treatment hinges on surgery, radiotherapy and chemotherapy and survival is lower in this group (around 100,000 of the women diagnosed with breast cancer each year in Europe). A drug that could target molecular markers on tumours that were triple negative would provide enormous extra value to this group of patients.
What are Receptors?
Receptors are tiny molecules on the surface of a cell. They have a specific shape that fits exactly a signalling molecule such as a hormone. Breast cancer cells often have receptors on their surface that bind well to progesterone and oestrogen. The presence of these hormones in a woman's blood, particularly the high levels seen in pre-menopausal women, stimulates the receptors and actually makes the tumour cells divide faster. To slow down the growth of the tumour, hopefully to stop it growing completely, the drugs Tamoxifen and the aromatase inhibitors have been designed to cut production of these hormones in the body. Even though the breast cancer cells still have the receptors, they do not benefit because there is no hormone to interact with them.
The HER-2 receptors bind to small molecules called growth factors. The newer drug, herceptin, works in a different way to Tamoxifen and the aromatase inhibitors. It actually binds to the receptor on the surface of the cancer cell, blocking it up so that the growth factors that are circulating in the blood cannot have any effect on the cell. The result is the same – the growth of the cancer is slowed down and virtually halted in some cases. This gives the body's own defences more time to have an impact and small tumours disappear completely.
Treating Women With Triple Negative Breast Cancer
Breast screening techniques such as mammography can detect the presence of cancer but imaging cannot provide information on the profile of the tumour. A biopsy is performed to take some cells from the tumour so they can be tested to see if they have oestrogen, progesterone or HER-2 receptors. For all women found to have early stage breast cancer the most usual treatment is to have surgery. This can either be a lumpectomy, the removal of the lump and a sizeable margin of tissue around it, or it can be a complete mastectomy.
After that, all women have the option of chemotherapy but this becomes even more important for women diagnosed with triple negative breast cancer as there is growing evidence that these types of tumour are more sensitive to chemotherapy in the early stages even than hormone receptor positive tumours. Standard chemotherapy using a combination of an anthracycline and a taxane is commonly used.
Survival Prospects
The survival prospects for all forms of breast cancer have increased significantly in the last 20 years but this is due, in some part, to the development of the drugs that target hormone-dependent breast cancers. Triple negative breast cancer may respond to chemotherapy in the early stages but it is generally a more aggressive form of breast cancer and can develop more rapidly. The overall survival prospects of triple negative breast cancer can therefore be lower than other types of breast tumour.
Active Research
To rectify this situation, research is ongoing to trial new combinations of chemotherapy drugs. A large trial is currently ongoing, funded by Cancer Research UK and the other major breast cancer charity, Breakthrough Breast Cancer. This trial will run for 5 years and will study a total of 450 women to see if the chemotherapy agents docetaxel combined with carboplatin, a combination therapy not usually applied to women with breast cancer, can treat women with triple negative breast cancer more effectively. Research is also investigating new chemotherapy agents such as ixabepilone, a drug that binds to the microtubules in dividing cells, preventing them from dividing again.
You might also like...