Alternative Therapies and Breast Cancer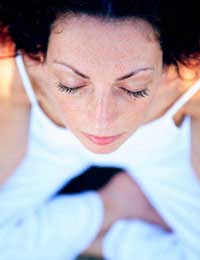 Many women living with breast cancer find that their quality of life is increased when they engage in alternative therapies. Yoga, meditation, reflexology and acupuncture are just a few of the alternative therapies in which women may engage for a better quality of life while fighting cancer.
Yoga
Breast cancer patients who engage in gentle yoga classes often feel a sense of stress relief and heightened well being during and after these classes. Hatha yoga, a gentle, slower form of yoga that concentrates on proper yoga postures and breathing techniques, is popular with breast cancer patients. Women can not attend such classes in their local areas can still benefit from specially designed yoga weekends or yoga retreats. Audio yoga podcasts or yoga DVDs are also options for women who prefer to practice in the security of their own homes. However, because yoga does require physical activity, any woman interested in engaging in a new course should check with their doctors and advise their teachers of their condition.
Meditation
Meditation is a practice that focuses the mind by interrupting and suspending an individual's normal thoughts and stream of consciousness. This focusing is usually achieved by exercises that first calm the mind, then instruct individuals to focus on just one thing such as a word or phrase (mantra) or even the individual's natural breathing pattern. Breast cancer patients may find that meditation relieves their stress, leaves them feeling more energetic and helps them sleep. Those who meditate regularly also often report feeling more in tune or in touch with themselves, so lifestyle changes may result as well.
Reflexology
Foot reflexology has long been used as a medical practice in the East. This therapy involves a practitioner pressing on parts of the foot that are thought to be related to other organs and areas of the body. Women with breast cancer who engage in regular reflexology sessions often report feeling calmer, less anxious, less stressed and having better sleep. Women with breast cancer who would like to try reflexology should alert both their doctors and the reflexology practitioner to their health conditions.
Acupuncture
Acupuncture, or the placing of thin needles into specific "acupuncture points" on the body, is another treatment that has long been used in the East. It is believed that these needles stimulate the specific points, unblock chi or energy flows in the body, and stimulate the nervous system to release organic painkillers. Women undergoing treatment for breast cancer may find that acupuncture helps relieve some of their side-effects such as nausea, vomiting, hot flashes, pain and fatigue. Those who undergo acupuncture sometimes also report sleep benefits such as better sleep, longer sleep, deeper sleep and/or less interrupted sleep. Again, women with breast cancer who are interested in acupuncture should discuss their plan with both their doctors and the chosen acupuncturist.
Alternative therapies, sometimes also known as complementary therapies, may provide women fighting breast cancer with a better quality of life. When used in conjunction with standard cancer treatments these therapies may reduce stress, alleviate side-effects and increase a general feeling of well-being.
You might also like...