The Benefits of Breast Massage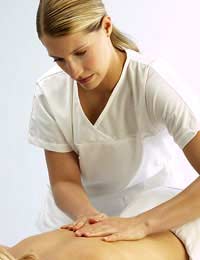 Many women feel that regular breast massage benefits the look, feel, shape and health of their breasts. For these women, finding a professional to therapeutically massage their breasts or carrying out breast massage at home, is an important part of their overall health and beauty routines.
Benefits Of Breast Massage
The breasts are made up of fat, glands, ducts, veins and more. Many women feel that breast massage is important to helping these structures and tissues remain in top form.
Some women believe that therapeutic massage is necessary to push blood, nutrients and toxins through the breasts to increase circulation, elimination, tissue tone and skin tone.
Other women believe that breast massage helps the breast skin to remain supple and supportive, giving their breasts a better overall look or feel. Still other women believe in breast massage as a means of keeping the breast skin as elastic as possible to fight against the formation of breast wrinkles.
Though there may not be hard evidence to support each woman's claims about the specific benefits she feels comes from regular breast massage, there may be no reason for her to believe that consistent breast massage does not provide those benefits either. Women who are interested in learning more about breast massage should speak to both their GP and a professional massage therapist for further information.
Finding A Professional Breast Massage
Breast massage is not often advertised on massage therapist's typical marketing tools. However, calling around to find out if massage therapists offer this option is an easy way to find out more.
Asking local women for their recommendations can be another way to glean recommendations. Also, contacting breast health centres may result in further information or recommendations. However, because breast massage is a sensitive topic, women should make sure that they feel totally comfortable with a massage therapist and confident that (s)he is able to provide a therapeutic breast massage before booking an appointment.
At Home Breast Massage
Some women may want to explore breast massage in the privacy of their own homes instead of looking for a massage therapist to provide this treatment. Women may want to consult their doctors, research techniques in books and ask others about how they administer a breast self massage before attempting this themselves.
Some key points to remember about breast self massage include to use unscented oils on this sensitive skin, to save first attempts for after a menstrual period when the breasts are often least tender and to always use slow, gentle movements when massaging breast tissues.
Women who do administer regular breast self massages may find that they come to know their breast tissues quite well, so any changes to these tissues such as lumps or dimpling of the skin will be noticed quickly. Changes to breast skin or tissues should be reported to a GP immediately for further investigation.
Many women believe that regular breast massage provides them with a host of benefits regarding breast health and beauty. Women considering engaging in breast self massage should thoroughly investigate professional massage therapists in their area and consider at home breast massage before booking any appointments for this treatment.
You might also like...