Breasts and Wrinkles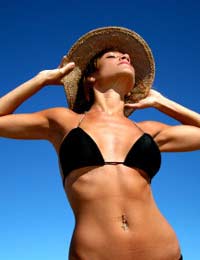 Breasts are made up of delicate, sensitive skin that wrinkles easily if it is not cared for properly. Most women do not find breast wrinkles attractive, but the good news is that there are many ways to avoid or slow the formation of breast wrinkles and to treat breast wrinkles when they do occur.
Avoiding Breast Wrinkles
Breast wrinkles can be affected by many factors. Exposure to the sun, tanning booths, dry skin, smoking, standing posture, sleeping posture and repeated actions such as twisting and turning can all contribute to the formation of breast wrinkles.
To minimise these affects, breasts should be protected from the sun with either clothing or sunscreens, tanning booths should be avoided, the chest should be moisturised as needed, smoking should be stopped, a good standing posture should be adopted, breast support should be provided as needed when sleeping and repetitive twisting and turning motions should be avoided.
Breast wrinkles can also result from breast implants, and skin rippling on the breasts could also be a sign of poor breast health. If it is believed that wrinkles are the result of breast implants or a warning sign of a health problem then a doctor should be consulted immediately. Also, every woman should properly support their breasts at all times so having a professional bra fitting to find the best bras and sports bras is important.
Treating Breast Wrinkles
In general, wrinkles can be divided into two categories: fine lines and deeper furrows. Fine lines can often be fought with a variety of at home or over the counter products which give women a few treatment options when such breast wrinkles do develop.
Some women swear that breast massage and/or skin creams specifically designed for the breasts help to reduce their breast wrinkles, while others may find that simply adding proper support in the form of a well-fitting bra or other undergarment can help reduce the look of breast wrinkles.
Treating deeper furrows, however, may need professional help. Dermatologists will be able to advise women on how to treat deep or otherwise noticeable breast wrinkles, though some women may seek a surgical treatment for their wrinkles.
Breast augmentation or another plastic surgery option may be the preferred choice for some women to treat their breast wrinkles, though careful investigation into these procedures and full discussions with plastic surgeons about the desired outcome is always a good idea before turning to such a treatment option.
Breast wrinkles may not be considered attractive but they are certainly common, especially among women with larger breasts. Women can take many steps to avoid or lessen the appearance of breast wrinkles, and there are many options for treating breast wrinkles regardless of if they are finer lines or deeper furrows.
Though many of these steps and options could be carried out at home, women may also want to consult a doctor or dermatologist to ensure proper breast health and support while they attempt to fight the formation of, or lessen the look of, breast wrinkles.
You might also like...
Hi, i stopped breastfeeding last year and i have been using over counter pills for quick drying up.now my breast are flat and wrinkled.please help me...
shuu
- 10-Mar-20 @ 12:33 PM
One of my breast grew a lot during pregnancy. The same got engorged post delivery. One i got relieved from engorgement, this brest has sagged like hell with deep furrowed wrinkles. Now the condition is ine breast is fine and the other is larger in size, extremwly sagged n wrinkled. I am still breastfeeding n age 31. Can this be treated?
Priya
- 24-Jul-19 @ 5:04 AM
My breasts are starting to gather wrinkles on the top and I would appreciate some advice on creams or something I can do to prevent this from getting worse.
Slut
- 3-Jun-18 @ 6:59 PM
Hi there, i've just started breatfeeding 18 days ago. Ive noticed a dry, scaly, wrinkly patch of skin on my boob. It's not itchy or painful. The same boob also hurts a little when she's breastfeeding whereas the other boob doesn't. There is also a red blotch on my nipple and the pigmentation around it is gone(my areola is brown but surrounding the red blotch it is white/skin coloured.) but I had this checked by the doctor a few months ago but she okayed it ad said it was just changes to my breast due to pregnancy. Im really worried. Do you know what it could be?
Emily
- 5-Mar-16 @ 5:08 PM