Skin Creams for Breasts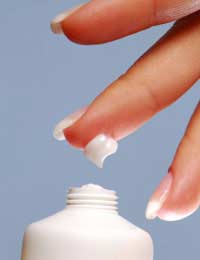 Women may choose to investigate skin creams for the breasts for many reasons. There are a variety of skin creams for the breasts available on the market today, but the majority of them can be applied in much the same ways.
Types Of Skin Creams For The Breasts
Women may require skin creams for the breasts for many different reasons and the wide variety of types of skin cream available reflects these thoughts.
There are skin creams available that promise to help enlarge the breasts, fight breast wrinkles, help ageing skin retain moisture, treat freckles or other skin spots, firm the breasts, fight breast acne, treat breast rashes, deliver needed nutrients and more. Some of these creams claim to be herbal or all natural, some are not tested on animals and some claim to have been medically developed.
For the most part skin creams for the breasts can be bought at a beauty counter or a local chemist, though there may be some options that are by prescription only. There are also a few alternative to skin creams for the breasts such as foams, jellies, lotions, oils and even breast masques.
Selecting Skin Creams For The Breasts
Women must know why they want to apply skin creams to the breasts in order to make the right skin cream selection. In addition, women should work out prior to purchasing the cream just what their budget includes. The price of skin creams can range from just a few pounds to several hundred pounds so women should stay strong when it comes to spending the right amount.
Also, women should be sceptical of any cream that can be purchased without a prescription that claims to include medicinal properties. If possible, women should investigate the cream and discuss it with a chemist or GP before purchasing it.
Applying Skin Creams To The Breasts
Women who use skin creams on their breasts often apply it in a massaging motion. Many women use light but firm strokes away from the nipple to rub the skin cream in while also lightly kneading the breast in the belief that the massage also has toning properties for the breasts.
Some women also use skin creams to help aid them in breast self exams so that their fingers glide more easily over the skin of the breast. Regardless of exactly how it is applied, the packaging for skin cream for the breasts will usually say that the creams should be applied daily, and perhaps nightly as well. Incorporating it into a beauty routine may make it easier for women to remember to apply such skin creams.
Many different types of skin creams for the breasts exist today, so women must know what they want - and what they can afford - prior to purchasing such a cream.
Women should check with a GP or chemist prior to purchasing creams that claim to have medicinal properties. Incorporating skin creams into normal beauty routines, or breast self exams, can be options for women who have trouble remembering to apply them.
You might also like...
I have a proble my breast makes me uncomfortable when it comes to undress myself ever since i breastfeed.so i don't know what to do anymore,really wants them to be back on track because this stresses.please help