Breast Tattoos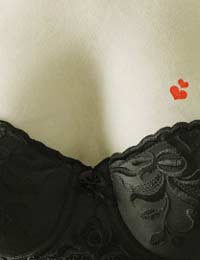 Breast tattoos are a controversial topic, people tend to either love them or hate them. There are many different reasons that women may elect to get a breast tattoo, and there are some perennially popular selections for this type of skin art. There are also safety concerns that women should consider before getting breast tattoos.
Reasons For Seeking Breast Tattoos
Women may seek breast tattoos for many different reasons. Many women select a breast tattoo to mark a milestone in their life such as leaving home, getting married or having a child.
Other women may use breast tattoos as a means of remembering a loved one (for example, in the thought that they are getting the tattoos close to their hearts). Still others may get breast tattoos following breast cancer or mastectomies.
Breast tattoos may also be used to send messages to others, for example that a woman finds her breasts beautiful and inviting or that a woman has definitive tastes.
Breast tattoos are somewhat controversial, getting one and displaying it are often ways of weeding out those who do not agree with this aesthetic. It must be noted too that the placement of the breast tattoo also reveals a great deal.
Tattoos that are routinely displayed are more likely to be for the enjoyment, or information, of others. Tattoos that are placed below normal necklines and are not displayed in public tend to be for private enjoyment.
Popular Selections For Breast Tattoos
Breast tattoos tend to be very feminine in design. Popular, if generic, selections for breast tattoos include flowers (particularly roses), hearts, stars, moons and fairies.
More personalised designs often include the name of a loved one, dates that hold personal meaning and symbols that reflect a woman's life. For example, women who participated in sports events might get something to commemorate that event. Women who enjoy music might ask for a musical note design. Women whose passions are books and writing might get a quill pen design.
The possibilities for breast tattoos are limited only by a woman's imagination and a tattoo artist's talent and supplies.
Breast Tattoos And Safety Concerns
There are some safety concerns associated with breast tattoos. As with any tattoo, women should make sure that the equipment to be used for breast tattoos is clean and sterile, and that the tattoo artist follows all health and safety laws.
Women should also take care to follow all recommendations regarding cleanliness so that new breast tattoos do not become infected.
Women considering breast tattoos should also know that breast size does tend to fluctuate throughout life, so the design might be affected by such increases or decreases.
Finally, women should be aware that having a tattoo would not normally preclude them from breastfeeding however women who are worried about breast tattoos and their health, or the health of future children, should discuss this matter with their GPs.
Breast tattoos are a matter of personal taste and may be acquired for many different reasons. There are some recurring designs that are popular for breast tattoos, and there are some common safety concerns that women should be aware of before getting breast tattoos.
You might also like...
Am getting my first tattoo, and I'm getting it on my left Breast.The tattoo will be a Rose, as it's my favourite flower.Anyone got any advice for me prior to me getting the tattoo?Am excited and nervous at the same time.
Jools
- 9-Jun-17 @ 9:25 PM