Breasts and Sun Protection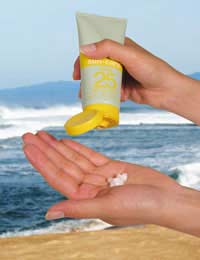 The skin of the breasts is very delicate, and over-exposure of this skin to the sun can have lasting consequences. Rather than risk any unintended results which could compromise both the health and beauty of the breasts, women should cover up the skin of the breasts with clothing or sunscreen to protect it from sunburn and worse.
Results Of Breast Skin And Overexposure To The Sun
The sun can have a damaging, ageing effect on breast skin. Too much sun can result in sunburns (some that may even cause the skin to peel or blister), thickening of the skin, wrinkles, freckles, sun spots and eventual loss of moisture that causes dry, rough skin.
Overexposure to the sun can also result in skin cancer. Such overexposure to the sun can happen in summer or winter and may take only 15 minutes to affect those with light skin.
Tanning lamps and beds can also result in sunburn and skin damage. Women may have heard that exposure to the sun can help avoid or treat breast cancer but this is not necessarily an accepted view. Women who would like to learn more about this topic should consult their doctors.
Protection: Covering The Skin Of The Breasts With Clothing
Covering the skin of the breasts with clothing is an easy way to protect it from the sun. Clothing that is light in colour and made from natural fabrics such as cotton and linen is often the coolest for women to wear as the light colour helps reflect heat (rather than absorb it) and the natural fabric is breathable and allows for air circulation.
When out in the sun, women should make sure that these garments have a neckline high enough to cover the breasts. Wearing a t-shirt over a bathing suit to go swimming should also help keep the breast skin covered though this shirt should be changed when women are finished swimming.
Also, if women must use tanning beds then wearing a vest or strapless top that covers the delicate breast skin will help to keep this skin safe.
Protection: Covering The Skin Of The Breasts With Sunscreen
Covering the skin of the breasts with sunscreen prior to going in the sun is important. This sunscreen should be applied at least 20 minutes prior to sun exposure and should even be used on areas that will be covered by fabric, such as under straps or around necklines. This is important because fabric shifts as bodies move, so this skin may in fact be exposed for much of the time depending on a woman's position.
Sunscreen used on the breasts should have at least a 30 SPF, block both UVA and UVB rays and should be reapplied at intervals as directed. Using sunscreen for sensitive or delicate skin, which will be less likely to cause an allergic reaction or clog the pores, is usually also recommended for application to the skin of the breasts.
Breast skin is very delicate skin and can be easily damaged by too much sun. Wearing clothing and applying sunscreen to this skin are smart ways to fight the negative effects of the sun and retain optimum breast health and beauty.
You might also like...
I laid out topless for the first time in my life, and will never do it again! I stayed out rotating and basting for a hour before I called it a day. It was clear I had sunburn, and thought it was as simple as that until three days later..... After arriving home from work on my way to shower I discovered my entire breast area was covered in now busted blisters, thanks to my bra. The pain. The pain was nothing compared to the itch. An itch that I can only describe by saying, if insanity had a "feel" this itch would be it. Here I am now 4 days later with the same excruciating itch plus a massive raised rash around the area. No home remedy in sight. The dr cant open soon enough....first and last lay out ends in disaster.
Mia
- 20-Jul-20 @ 6:24 AM
@Bec- it will go - just be careful in the future. This is such a sensitive area of the body you have to be careful.
HanB
- 12-Jul-18 @ 2:58 PM
I have sat in the sun with sun screen lotion on of 30 in the sun and I have noticed my boob is red but not sore... hope it will go! I have put body moisture on hope that will help. Any advice thanks .
Bec
- 11-Jul-18 @ 4:50 PM