Breast Discharge: Possible Causes and Action to Take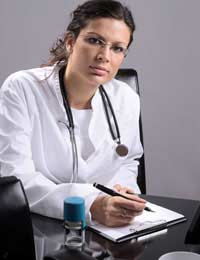 Following breast pain and lumps in the breast, breast discharge, or more specifically nipple discharge, is the third most common complaint related to breast health which women report to medical professionals. Thankfully most discharge is not related to cancer, but this does not mean that discharge should be ignored. There are many possible causes of breast discharge, but only one best course of action to take: reporting discharge to a doctor.
The nipple is the area through which discharge is released.
Types of Breast Discharge
Several different types of nipple discharge exist. Milk can be discharged, as can be blood or watery fluid. This means that the colour of discharge can be anywhere from clear to milky white to red, pink, brown or even black. Discharge may appear only when the nipple is squeezed, such as during a breast self exam, or it may appear spontaneously. Discharge may be consistent or it may occur without a pattern. Finally, discharge may occur in only one breast or it may occur in both.
Possible Causes of Breast Discharges
There are many possible causes of breast discharge. Milky discharge is usually related to lactation, such as in breastfeeding mothers. Bloody or watery discharge may be related to conditions such as benign tumours in the milk ducts or an infection. Other discharges may be related to cysts in the breast or changes in the milk duct. In a very small amount of cases discharge can be due to a form of nipple cancer known as Paget's Disease. Some women may also find that discharge is related to hormonal changes, their pituitary gland or drugs that they are taking such as sedatives or even birth control pills.
Actions to Take Regarding Breast Discharge
When breast discharge is observed it should be reported to a doctor. Most likely the GP will first carry out a clinical breast exam and a sample of the discharge will be collected. This sample is known as a nipple smear and it allows doctors to see if blood cells or cancer cells are present in the discharge. Other components of the smear may be clues to the underlying cause of the discharge as well, such as pus in the smear would point towards an infection in the breast. Mammograms may also be used to investigate the underlying cause of the discharge, and if something is felt in the breast then an aspiration or biopsy may be performed.
Noticing breast discharge is not a pleasant experience, but women should not immediately assume that it is indicative or breast cancer. Instead, women should report the discharge to their doctors immediately for further investigation and treatment.
You might also like...