Information and Advice about Breast Cysts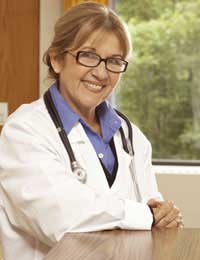 Most breast cysts are discovered either during breast self exams or clinical breast exams when they are felt beneath the skin or observed externally as a protuberance in the breast. Though cysts may be painful, they are usually benign and in no way indicative of breast cancer or any other serious condition. However, if a cyst is felt or observed, it should be reported to a doctor immediately for further investigation and treatment.
Anatomy of the Breast
Breasts are made up of mammary glands, connective tissue, fat and ligaments, though primarily of fat. This means that breasts often change size depending upon recent weight gains or losses. Breasts sit over the pectoral muscles of the chest, and each breast has a nipple with a surrounding areola. Cysts are normally felt in the more fatty areas of the breast, and indeed some cysts are moveable throughout the breast.
Composition of a Cyst
Cysts are fluid-filled sacs. Usually cysts are small and feel smooth, but sometimes they may grow large enough to be seen within the breast. Cysts that are this large may be painful. Cysts are most often seen in women between the age of 30 and 60 and are particularly common in women who are just a few years away from menopause. However, cysts may be found in women of all ages and it should be remembered that the presence of cysts in the breast does not increase the chances of developing breast cancer.
Discovering Cysts in the Breast
Women's breasts are all different, so it is important for each woman to understand what her own breasts normally feel like so that she will be able to easily recognise any changes should they occur. The best way for a woman to become familiar with her breasts is to carry out monthly breast self exams. By consistently observing and feeling her own breasts, a woman will be able to keep track of any patterns of changes (such as those related to the menstrual cycle) and any changes that are not related to a consistent pattern. Usually cysts are discovered by a woman while she is either looking at or feeling her breasts and notices a lump. Cysts may also be discovered during a clinical breast exam in which a trained professional observes and/or touches the breast and finds the lump.
Reporting Lumps in the Breast
Women who discover a lump in their breast should report it to their doctor immediately. It would be hard to know what the lump is simply from a breast self exam, so most GPs will also conduct a clinical breast exam. If a lump is found at this time, the GP may ask the woman to return in a week for another exam. This would be simply so that the GP can determine if the lump is cyclical in nature. If the lump is still there upon re-examination then further testing may be recommended. Mammograms, ultrasounds, aspirations and biopsies are just a few of the methods by which a doctor may investigate a breast lump. Cysts are often treated by aspirations, or the insertion of a needle into the lump to withdraw fluid. Usually once the fluid is withdrawn the cyst disappears, but if the fluid includes blood then further investigation will likely be required.
Cysts in the breast are usually benign, but it can be frightening for women to find a lump in their breasts and not know the cause. Reporting the lump to a doctor immediately is the best course of action to take so that it can be diagnosed and treated appropriately.
You might also like...