Men and Breast Health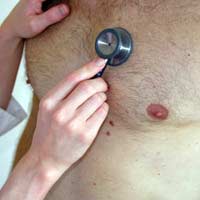 Breasts health is most often associated with females, so it is rare that men discuss breast health with their doctors or even think about it on their own. However, not only can men develop breast cancer but they can experience breast pain just as women can. Below are some basic answers to frequently asked questions regarding men and breast health?
Why Do Men Have Breasts?
To date it is not known why men have breasts. It is, however, speculated that this area may develop before sex-specific hormones in embryos, so when testosterone is secreted in male embryos the growth of breasts is halted.
What Are Male Breasts Made Of?
Male breasts are slightly similar to female breasts. Each breast contains a nipple, surrounded by an areola. Beneath the nipple are rudimentary mammary cells. These breasts are located on top of the pectoral muscles, just as they are in women. Women's breasts, however, contain a fully formed system of mammary ducts and glands (needed for the production of milk during pregnancy and breastfeeding) as well as fatty tissue. Males who are overweight may develop larger breasts due to deposits of similarly fatty tissue, however because males generally secrete testosterone this tissue growth is halted for men of average weights. A small number of men, however, have a condition known as gynecomastia which means that they develop breasts similar to females.
Can Men Develop Breast Cancer?
Yes, men can develop breast cancer. In fact, it is estimated that about 300 men per year are diagnosed with breast cancer in the United Kingdom.
What Are Signs of Breast Cancer In Men?
The most obvious sign of breast cancer in men is usually a lump in the breast, often near or just behind the nipple. Changes to the nipple or nipple discharge, rashes on or near the nipple, and visible changes to the skin of the breast can also be signs of breast cancer in men. If any such signs are noticed in men, they should be reported to a doctor who can investigate them such as by mammogram, ultrasound, needle aspiration or biopsy.
How Is Breast Cancer Treated In Men?
Breast cancer is treated in men similarly to how it is treated in women. Depending upon the type and stage of cancer, as well as other factors specific to the individual, breast cancer may be treated by surgery, hormone therapy, chemotherapy or radiotherapy.
How Should Men Guard Against Breast Cancer?
Men should observe their breasts on a regular basis and note any changes immediately. Similarly, if a lump is felt on the breast or nipples begin to itch or feel painful, discussing these developments with a doctor is recommended.
Can Men Experience Other Breast Pain?
Yes, men may also experience breast pain that is not related to breast cancer. This pain usually stems from the breast tissues themselves, from the pectoral muscles under the breast or even from the ribs. Such pain may be described as sharp, burning or shooting. Taking a general pain reliever and avoiding movement in the area may help, but if pain persists it should be reported to a doctor.
Where Can Men Obtain Further Information on Breast Health?
Men can obtain further information on breast health from their GP, Cancer Research UK (www.cancerhelp.org.uk) and/or the NHS Breast Screening Programme (www.cancerscreeningnhs.org.uk). Private medical insurance companies may be able to offer further information as well.
You might also like...