Breasts and PMT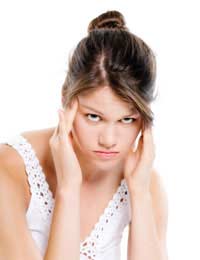 Many women experience changes in their breasts that seem to be cyclical in relation to their menstrual cycle. To best determine if there are any changes in the breasts that occur in relation to the menstrual cycle, women should perform breast self exams at the same time each month and note changes as the month goes on. If a pattern emerges then the changes are most likely cyclical. Some of these changes can be treated at home, though any changes that are unusual or break the monthly pattern should be reported to a doctor immediately.
Pre-Menstrual Tension
Pre-menstrual tension (PMT) is the term most commonly used to the variety of physical and physiological changes that may occur for a woman in the days leading up to her menstrual period. Most women experience only mild changes, though roughly a third or women are thought to experience PMT that interferes with their normal daily lives. Only about 5% are thought to experience severe PMT.
Cyclical Breast Changes
Breast changes that are related to PMT are usually said to be cyclical. This can include breast pain, tenderness or feelings of "fullness" of the breast. Sore or tender nipples may also be experienced. Some women may also find that their breasts feel different at different times of their menstrual cycle or even that some lumps appear at some times but disappear at others. If these changes are noted at about the same time each month then they are most likely cyclical and not indicative of anything more.
Reporting Breast Changes to a Doctor
Women who routinely carry out breast self exams will soon become familiar with what is normal for their own breasts at different times of the month. Most likely any changes that are experienced, particularly regarding breast pain or tenderness, will occur at the same time and occur to the same extent each month. However, if new changes are detected or changes are detected in an inconsistent manner then women should notify their doctors immediately.
Treating PMT at Home
If PMT is not so severe that women report it to their doctors then there are a variety of at home treatments that may help relieve symptoms. Vitamin B6, diuretics, evening primrose oil and tablets designed to ease PMT are all options for women seeking light relief. Some women also find that after an initial consultation with a doctor that they are happy to take an oral contraceptive or antidepressant to help with PMT symptoms. For specific breast pain, wearing a different sized bra during PMT or even a sports bra may help women who feel that they need more support or security at this time. Looking for bras without an underwire may be important for women experiencing severe tenderness or pain.
PMT manifests itself in a variety of physical and physiological signs, each of which may be experienced differently by different women. Breast pain or tenderness can be a significant part of PMT, though a variety of at home treatments might help relieve these and other symptoms. For more information about your breasts and PMT, talk to your doctor or contact the National Association for Premenstrual Syndrome (www.pms.org.uk) for general advice.
You might also like...