Information about Breast Calcifications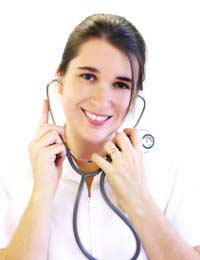 Discovering breast calcifications can be a frightening experience for women who are not familiar with this condition. To ease anxiety about breast calcifications, please find below are some basic answers to frequently asked questions about breast calcifications.
What Are Breast Calcifications?
Breast calcifications are small build-ups of calcium in the breast. These areas of calcium are very common and are usually benign. Breast calcifications can be divided into two main types. Macro-calcifications are larger deposits of coarse calcium in the breast. These deposits are the natural result of aging and are common in women over the age of 50. Micro-calcifications are very tiny calcium deposits in the breast. These deposits are usually found in areas of the breast where cells are replacing themselves more quickly than usual. For this reason, micro-calcifications are sometimes an indicator of pre-cancerous changes in the breast or even early breast cancer.
What Causes Breast Calcifications?
Breast calcifications may have many causes. Aging is a natural cause of macro-calcifications, as are calcium deposits that build up in a cyst or in a milk duct. Macro-calcifications can also the result of injury to the breast or inflammation within the breast. Micro-calcifications are the by-product of speedy cellular replacement. In some cases this may be the result of pre-cancerous cells or early stages of breast cancer. Breast calcifications are not the result of ingesting calcium as a part of a healthy diet.
How Are Breast Calcifications Discovered?
Breast calcifications can not be felt or externally observed, so they will not be noticed during breast self exams or clinical breast exams. Instead, breast calcifications can only be discovered by mammograms or x-rays of the breast. On these x-rays macro-calcifications look like large white dots while micro-calcifications look like tiny white specks.
How Are Breast Calcifications Diagnosed?
Breast calcifications are diagnosed according to their presence on an x-ray according to their size and shape as well as if there is any pattern to them. Macro-calcifications which are plainly visible are diagnosed as such. Micro-calcifications usually require more magnified x-rays of the area. Depending on these x-rays micro-calcifications may be diagnosed as non-cancerous or there may be a need for a biopsy. A biopsy is a procedure in which as small sample of tissue is taken and examined with the assistance of a microscope. This allows doctors to see the tissue at a cellular level to determine if breast cancer cells are present.
How Are Breast Calcifications Treated?
Benign breast calcifications are not treated. Breast calcifications that are pre-cancerous or the early stages of breast cancer are treated as such. Treatment will be discussed between the doctor and woman involved according to her specific situation and lifestyle.
Are Breast Calcifications Related to Breast Cancer?
Few instances of breast calcifications are related to breast cancer. Macro-calcifications, the most common type of breast calcifications, are not related to breast cancer. Micro-calcifications may be related to pre-cancerous cells or the early stage of breast cancer in some instances, but certainly not in all. For this reason it is imperative that women diagnosed with breast calcifications discuss the situation with there doctors until they understand completely what was found and what it means for their overall and breast health.
Where Can I Find Out More About Breast Calcifications?
A GP, a radiologist or a specialised breast nurse will be able to tell you more about breast calcifications. Private medical insurance companies may also offer more information about breast calcifications.
You might also like...