Breast Enlargement Implants Explained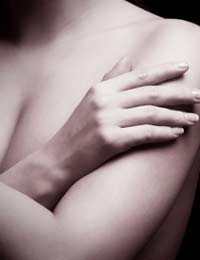 Breast enlargement is a common surgical procedure that involves inserting breast implants to make a woman's chest larger or fuller. Often this surgery is undertaken to enlarge the breasts, though it can also be used to reconstruct the breast (such as following surgery to treat breast cancer) or to even out breasts that may not have naturally been the same size or shape. Whatever the reason for surgery, breast enlargement requires a woman to choose which type of implant she would like to have inserted beneath her skin.
Natural Tissue Implants
Natural tissue implants are rarely used in cases of elective breast enlargement because the desired increase in breast size and/or fullness is usually too large to be successful with natural tissues. However, this type of implant may be selected by women who are undergoing breast reconstruction. If natural tissue implants are selected, the tissues generally come from the abdomen, back or buttocks.
Saline Implants
Saline implants are a common type of implant. These silicone sacs are filled with salt water (saline) and can either be pre-filled or filled via valve after insertion. Saline implants may rupture, and they may lose volume, wrinkle, deflate, collapse and/or leak. However, leaks from saline implants are naturally absorbed and expelled by the body so there is no health risk. Saline implants are available in round or breast shaped designs.
Silicone Implants
Silicone implants are another common type of implant. These silicone sacs are filled with an elastic gel (silicone) and may be either soft or firm. In soft silicone implants the gel is more like a fluid whereas in firm silicone implants the gel is more solid. If firm silicone implants are selected then a slighter larger scar may be left as the incision may need to be a bit larger to accommodate the implant. Though there have been some rumours that silicone implants are a danger to health, the medical community has found no evidence of this and continues to offer them. Silicone implants are also available in either round or breast shaped designs.
Living with Breast Implants
Breast implants are not intended for life and it is likely that they will need replacing at some point. Breast implants sometimes also suffer from "recalls" or warnings that specific types should be removed. For this reason women should keep information about their implants including manufacturer, style, batch number, lot number and any other identifying factors that may be appropriate. While living with breast implants women should still conduct consistent breast self exams and have mammograms as recommended, though they should always tell the radiographer about their implants to ensure that necessary adjustments can be made. Women with implants should not fear travelling and may be able to breastfeed. If something begins to feel or look unusual about breasts with implants it should be reported as soon as possible.
Breast implants are today a common fact of cosmetic surgery. There are many different types of breast implants available and women should endeavour to find out as much as they can about their options before making a firm decision. Breast implants require life-long care, so making the right decision from the start is important.
You might also like...