Preparing for and Recovering from a Breast Enlargement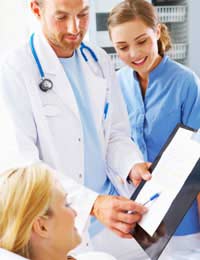 Women who choose to undergo surgery to enlarge their breasts often worry about how to best prepare for the procedure and what they will need to do to successfully recover from it and regain their full physical health. While each surgeon will issue his or her own instructions for preparation and recovery, there are some general things that women can due to ease their way through these time periods.
Preparing for Breast Augmentation
Prior to having surgery on the breasts it is quite normal for women to be instructed to have a blood test and a mammogram. The blood test usually looks at signs of overall health such as the number of red blood cells present (too few red blood cells can be a sign of anaemia), if the number of white blood cells present is normal (elevated white blood cell counts can be a sign of infection) and/or if there is anything to suggest that the blood may have trouble clotting.
A mammogram will help doctors determine if there are any breast health issue that should be addressed before a breast augmentation can go ahead or indeed could signal that a breast augmentation is not appropriate. Prior to surgery a complete medical history should also be discussed, implants should be selected and instructions on lifestyle changes (such as avoiding certain medicines or herbs) for the days leading up to the procedure should be followed. Women may also want to prepare for their recovery at this time, such as by organising time off work, asking for help with cooking and child care, stocking up on cold compresses to help with swelling and purchasing any supplies that the surgeon may instruct.
Recovering from Breast Enhancement
It should not be thought that recovering from a breast enhancement surgery will be minor. In fact, most women report discomfort during this time and it is usually a full week before stitches can be removed and/or they can return to work. Women are usually released from hospital on the same day as their surgery, though the effects of the anaesthesia will be different for everyone. Most women feel swollen, bruised and tender immediately following surgery and must wear a compression garment such as a sports bra, sometimes with ice packs already inserted in them. It may be advised that the ice packs be kept in place for the next few days, and generally women are advised to wear the sports bra at all times for several weeks or months. Some women may also find that they have a drain attached to the incision site. If this is the case then specific instructions will be given on how to care for the drain and when, and how, it may be taken out. Separate instructions on looking after the incision will also be given.
For women unsatisfied with their natural breasts, a surgical breast enlargement is one way of fulfilling their hopes of a larger or fuller chest. Preparing for and recovering from breast enlargement surgery will take some planning, but neither time period should be so difficult as to make the surgery seem like the wrong decision.
You might also like...