Breast Enlargement Pills and Creams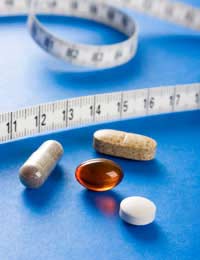 Women who do not want to undergo a surgical breast augmentation often look to pills and/ or creams as more natural methods of breast enlargement. In theory it would seem that pills and creams are much easier than surgery, however most over the counter products promise results that are rarely delivered. If someone is determined to try an over the counter pill or cream to enhance their breasts, they should contact their GP to discuss this plan and find out if there might be a more substantiated methods of enhancing their breasts.
Breast Enlargement Pills
Most pills that promise to enhance the breasts are made up of an herbal formulation. Common ingredients in these pills include blessed thistle, dong quai, fennel seed, hops, saw palmetto and wild yam. Theoretically, a specific formulation could increase breast size because some herbs do affect the body in ways similar to oestrogen, but prolonged use of these pills to maintain an enlarged bust could also adversely effect the body. With no medical supervision, there is no way of knowing what kind of damage may be done and rarely do breast enlargement pills carry any sort of safety information. It may also be that individuals could be allergic to ingredients in these pills which would further endanger their health.
Breast Enlargement Creams
Like pills that promise instant breast augmentation, creams that advertise breast enlargement are usually based on some sort of herbal formula. Instead of being ingested, this formula is rubbed into the skin of the breast. There is no hard evidence to suggest that such creams actually work, though many women will say that they have obtained results. It must be remembered, however, that like breast enlargement pills, breast enlargement creams work by delivering herbs that mimic the body's natural hormones and there is no real knowledge yet of how prolonged exposure to these herbs affect the body. It is known though that women who are pregnant, nursing, have a history of female cancers or have a family history of female cancers should avoid such creams that require targeting the breasts. Women who have sensitive skin may also want to avoid such creams and instead only use creams that are a regular part of their skin care regime.
Considering Breast Enlargement Surgery
While some women swear by breast enlargement pills and creams, the only way to be absolutely certain of real breast enlargement with no unknown or misunderstood adverse effects is currently surgical breast enlargement. Breast enlargement is best discussed with a cosmetic surgeon. Contacting the British Association of Aesthetic Plastic Surgeons (www.baaps.org.uk) will offer more information on surgeons in the UK. All surgeons should be happy to schedule informational appointments to help prospective patients figure out if surgical breast enlargement is right for them. Women should also ask about alternatives to surgical breast augmentation at this time, and the type of care that different breast enlargement methods will require in order to best understand which will fit their lifestyles.
Breast enlargement pills and creams may work to enlarge the breasts because they contain herbs that mimic the body's own hormones, but how they otherwise affect a woman's health is still not well understood. Women should speak with a medical professional before beginning any routine that involves herbal pills or creams to enlarge the breasts.
You might also like...
A breast surgeon on nhs recently put my breasts down when i was there to be seen about a spacific problem he said next time you visit have a better filled bra so im considering a enlargement of breasts just up another size not very big just to build my confidence as its been knocked as i already felt low about my breasts
Firey
- 29-Aug-18 @ 2:15 PM