Breast Enlargements and Breast Health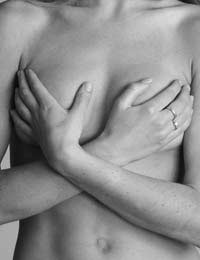 Some women worry that having breast enlargement surgery and living with implants will negatively affect their overall breast health. This does no necessarily have to be the case. While there are potential complications to having breast implants, they should not contribute to cancer, impede breast self exams or get in the way of mammograms. With some slight adjustments, women who have had a breast augmentation should have similar breast health to women with totally natural breasts.
Complications of Breast Enhancement
There are some risks and side effects associated with breast enlargement surgery, including scar tissue building up by the implant (capsular contracture), possible displacement of the implant, deflation of the implant, leaking from the implant, shifting of the liquid in the implant which causes rippling on the skin and nipple numbness are all common risks associated with surgical breast enlargement. Infection near the implants may also be another complication of such surgery. However, these are all well known complications that can be treated and should not lead to long-term health concerns.
Implants and Health
In the past it was feared that implants could cause cancer. Today there is no evidence linking silicone implants to cancer and it is well know that saline implants, which are filled with salt water, do not pose a threat to health because any links are absorbed and expelled from the body naturally. The most impact implants should have on a woman's health is the recovery period of about a week it will take a woman to be able to routine to her daily routine, and the continuous observations a woman must make to ensure that her implants are still in good order.
Implants and Breast Self Exams
One way for women to ensure breast health is to carry out monthly breast self exams. This combination of observing the breasts and palpitating the breasts will help women catch to the breasts as early as possible. Some women believe that implants impede a breast self exam, since all that they would be feeling is the implant rather than natural tissues. This is untrue. Doctors can show women how to distinguish their implants from their natural tissues, and how to safely feel around and beneath the implant to get a good idea of the state of their breast tissue.
Implants and Mammograms
Like breast self exams, it is sometimes thought that implants can preclude proper mammograms and thus compromise breast health. This is also untrue. Though there is a slight chance that implants could be damaged during a mammogram, there is no reason that women with implants should avoid mammograms. Instead, telling their radiographer about their implants will ensure that all necessary adjustments are made and the best possible x-rays, and care of the implants, will be taken.
Breast enlargement surgery is one of the most common cosmetic surgery procedures carried out around the world. Though surgical breast augmentation is not without its risk, there is no reason that surgery or implants should adversely affect breast health in the long term. Women concerned about breast enlargement and breast health should discuss their fears with a doctor or surgeon.
You might also like...