Breastfeeding Advice and After Breast Implants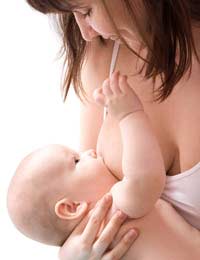 Breastfeeding following a breast enlargement is not guaranteed, nor is it guaranteed that a woman with breast implants will not be able to breastfeed. Instead, each woman will have to try breastfeeding herself to find out if it will be a possibility for feeding her baby. However, no woman should worry that her implants will somehow hurt her child or "infect" her breast milk as many medical studies have shown that there is no adverse relationship between implants and breastfeeding.
Types of Breast Implants
There are three main types of implants that a woman may have in her breasts. Natural tissue implants are usually only used in breast reconstruction and the natural tissues used usually come from the abdomen, back or buttocks. Saline implants are often used in breast enlargement and are silicone sacs filled with salt water (saline). Silicone implants are also often used in breast enlargement and they are silicone sacs filled with an elastic gel (silicone). There were rumours in the past that leaking silicone implants could adversely affect a woman's health and even that loose silicone could pass into a woman's mammary ducts and be transmitted to a baby via breast milk. Today silicone implants are considered safe for breast enlargement surgery and it is known that they can not contaminate a mother's milk.
Cosmetic Surgery and Implants
A woman who is looking to enlarge her breasts but wants to breastfeed should discuss this desire with her cosmetic surgeon. This desire may influence her implant selection as well as the technique used during surgery and the placement of the implants within the breasts. Surgeons who know that their patients want to breast feed can then be more careful about not cutting through milk ducts, glands and nerves and may advise implant placement under the chest muscle so as to not interfere with milk ducts and nerves. However, there can never be any guarantee that a woman will be able to breastfeed following breast enlargement or reconstructive breast surgery.
Breastfeeding After Breast Enlargement
Breastfeeding with implants will not affect the milk transmitted to the baby from the mother, though it may mean that nursing positions must be varied or that women may experience sensation changes in their nipples such as nipple numbness. Women who have had implants, then, should experiment with a number of different feeding positions as well as keep an eye on their breasts and nipples during nursing so that they can notice anything that looks forbidding. Women with implants should also be very conscious of the possibility of infection and see a doctor immediately if they notice any signs of infection in their nipples or breasts. Implants may also limit the supply of milk produced or stored within the breast, so mothers should remain vigilant about how much milk their babies are taking in. If babies are going hungry, then topping up with formula is usually a good option. For more information about breastfeeding and breast implants, contact a reputable cosmetic surgeon experienced in the procedure, a lactation consultant or another medical professional. Getting in touch with mothers who have breastfed with implants may also be helpful.
You might also like...