Breastfeeding in Public Places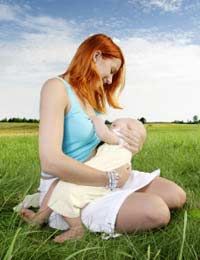 Breastfeeding in public is a contentious matter. Though it is not illegal to breastfeed in public, historically it has also not been illegal for those operating properties such as restaurants, shopping centres and even national museums to ask breastfeeding mums to stop feeding or leave the premise. In 2005 Scotland made it a criminal offence to ban breastfeeding in cafes, restaurants and pubs, shops and on public transport. The aim of the Single Equality Bill is to do the same in England and Wales. Since 2004, the Health Promotion Agency for Northern Ireland has encouraged the general public to be supportive of mothers breastfeeding in public places.
Nursing in Public Places
No matter what part of the United Kingdom they are in, women have less trouble with others if they are discrete in their nursing and are nursing babies aged one year old or younger. Though there are no set guidelines for what constitutes "discreet" nursing, some tips for making breastfeeding in public more subtle include wearing clothes and bras designed for nursing, finding out of the way chairs or areas for feedings, asking if there is a private or designated room for breastfeeding and bringing a shawl, blanket or anther form of cover-up to place over the baby during feeding. However, being discrete does have its limits. There is only so much that mothers can do to take into account others reactions. Feeding a baby in a toilet is not healthy, nor is alright for others to intimidate, harass or threaten a breastfeeding mother.
Dealing with Hostility to Breastfeeding in Public
Mothers who breastfeed in public will likely run into hostility regarding their choice at some time or another. If a mother feels unsafe, she should report the threatening behaviour to a store owner, security guard or police officer immediately. If a mother is disgruntled that she has been asked to leave a premise, she should consider reporting the request to a breastfeeding rights group such as La Leche League (www.laleche.org.uk) or NCT (www.nctpregnancyandbabycare.com), while women in Scotland can consider legal action against such a request. If a woman feels that others are disapproving of her choice to breastfeed in public, she may also consider using the situation as an opportunity to educate others about what she believes are the benefits of breastfeeding. However, a woman should never feel that she must justify her choice or attempt to discuss her choice with others if she feels endangered in any way. For some women, avoiding hostility by feeding their babies expressed breast milk from a bottle is a compromise.
The laws regarding breastfeeding in public in the UK are somewhat in flux. There has been a great amount of change in this area over the last few years, though the fact remains that very few women are ever criminally charged for breastfeeding in public. In Scotland, prohibiting a woman from breastfeeding in public is a crime. Regardless of legal status, however, women should know that the more discrete they are about feeding the less hostility they may encounter, though facing hostility at some time or another is still likely.
You might also like...