Common Problems for Breastfeeding Mums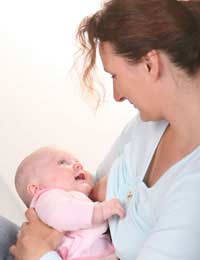 Breastfeeding may be a natural process, but that doesn't mean that is without its obstacles. Most women encounter at least one problem when they breastfeed, though by no means are these barriers insurmountable. Engorgement, sore or cracked nipples, mastitis, thrush and plugged ducts are all common problems that can occur to breastfeeding mums.
Engorgement
Engorgement generally happens to mothers a few days after giving birth. At this time lactation gets up to speed and a mother's milk comes in. If this milk is not expressed quickly enough it can lead to a fullness of the breast that can make it appear swollen, feel hard and be uncomfortable for the mother. Mothers may also notice that their breasts feel hot and their areolas and nipples flatten out a bit. If engorgement is not relieved, milk production can decrease and milk ducts can become plugged. Infection, known as mastitis, can also occur. Nursing frequently from both breasts can help avoid engorgement. Hand expressing or pumping may also help relieve engorgement.
Sore or Cracked Nipples
Mums who breastfeed may also experience sore or cracked nipples. Sometimes slightly bleeding from the nipples may even be present. To avoid nipple problems mothers can change breast pads frequently so that nipples can dry, allow a little milk or colostrum to dry on the nipples and act as an anti-infective agent, and avoid creams or ointments in search of relief for the nipples. Mothers can also change positions and ensure proper latching on during feeding, nurse frequently to avoid aggressive suckling from a hungry baby, nurse from both breasts, apply warm wet clothes or even tea bags to nipples following feeding and open both sides of a nursing bra during feeding. If nipple pain prevents breastfeeding then expressing milk might be an option.
Mastitis
Mastitis is an inflammation of the breast that is the result of infection. Infections can occur in breastfeeding mothers because bacteria can enter the nipples or because breasts can get too full of milk and the build-up can leak into breast tissues. Signs of mastitis include pain, red areas, areas warm to the touch, swollen lymph nodes near the breast, fever, chills and body aches. Severe mastitis can also lead to an abscess in the breast that feels like a hard lump. Antibiotics are usually used to treat mastitis.
Thrush
Thrush, sometimes also called a yeast infection, is a fungal infection that can often be found on a woman's breast or in a breastfeeding baby's mouth. Thrush may make a woman's nipples itchy, red or cracked, it may leave white patches in the baby's mouth and it may lead to soreness both in the mouth and breast. Thrush should be treated by a GP, though breastfeeding throughout treatment is usually fine.
Plugged Ducts
If engorgement occurs in a breast it can lead to a build up of milk in the milk ducts that eventually leads to a blockage. Once a blockage builds, ducts can become plugged and limit milk production. Plugged ducts can also cause milk to spill over into breast tissues and result in an infection. To avoid plugged ducts mums should feed babies frequently from both breasts, massage the breast a little before feedings and express extra milk as needed. Apply warm, moist heat to the breast such as in the bath or via a compress can also help with plugged ducts and milk flow.
Many mums experience problems with breastfeeding. While there may be many simple cures to overcome these obstacles, the advice of experienced breastfeeders or lactation consultants can also be invaluable. Women having trouble with breastfeeding should contact a GP, midwife or trusted advisor for further information on making their feedings as comfortable and healthy as possible.
You might also like...