Breastfeeding and "Latching On"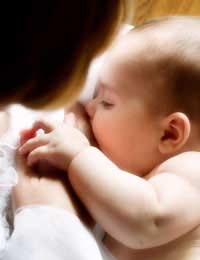 There's so much to think about with breastfeeding that it's easy for mothers to get caught up in what they should be doing and forget to monitor what their babies are actually doing. "Latching on" is the term commonly used to describe how a baby attaches to a mother's breast during nursing. Since babies are born with instincts for breastfeeding it may seem like latching on successfully should be a given. Unfortunately many mothers and babies have difficulty with latching on. For mothers an unsuccessful latch on can result in pain while for babies it may mean inefficient suckling and not getting enough milk. Thankfully there are many things that mothers can do to facilitate successful latching on, including supporting the breast, enticing a baby, changing positions and enlisting the aid of an experienced lactation consultant.
Supporting the Breast
Simply moving a breast towards a baby is not usually enough to ensure latching on and successful feeding. In fact, many experts remind mothers that it should always be a baby brought towards a breast, not a breast brought towards a baby. In order to best offer the breast, mothers should put their fingers under the breast and their thumb on top, though well back from the nipple and areola. This is because a good latching on often encompasses the areola as well as the nipple so having fingers get in the way could be an unnecessary obstacles.
Enticing a Baby
Some babies need a little enticement to latch on to the breast. If babies have worked themselves up into a frenzy then mothers may want to express a little breast milk and feed it to them on a spoon or in a bottle. Once the baby is calmer, breastfeeding can resume. Other mothers find that squeezing a few drops just onto the nipple can be enough to entice their babies to the breasts. Still other mothers sometimes find that sprinkling a few drops of sugar water onto their nipples attracts their babies. Once a mother finds out what works best to calm down a distressed baby and get him or her interested in nursing, repeating these actions as necessary will help increase the success of feedings.
Changing Positions
Most women envision breastfeeding as simply using an arm to cradle a baby and offering him or her the breast. While this may work on occasion it is more likely that a mother will need to switch positions if latching on is not successful. Laying a baby along a nursing pillow, holding a baby under the arm on a nursing pillow, laying the baby alongside a mother who is lying down, and the traditional cradle hold are all possibilities. Regardless of the position, mothers should not worry that a baby can not breathe while they breastfeed. A baby's nose will most likely be pressed at the mother's breast, but his or her nostrils will not likely be blocked by a mother's flesh. Changing a baby's position at the breast may also be important for a good latching on. For some mothers breastfeeding can be painful and the nipples made sore if a baby does not draw the nipple far enough into his or her mouth. If possible mother's should try to get some of their areola involved in latching on and their nipple back to the soft part of a baby's mouth to avoid discomfort.
Enlisting the Aid of a Lactation Consultant
Though breastfeeding is a natural process it does not mean that it is easy for new mothers or mothers breastfeeding a new baby. If needed, lactation consultants are happy to help mothers begin to breastfeed. La Leche League (www.laleche.org.uk) and NCT Breast Feeding helpline 0300 100 021 (www.nct.org.uk/parenting/how-breastfeed) will provide information and support on breastfeeding and most hospitals can offer women information on lactation consultants after giving birth.
You might also like...