Diagnosing Breast Cancer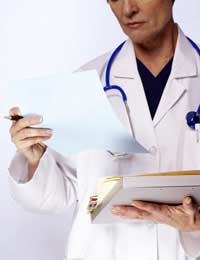 Breast cancer is most often discovered after a woman notices a change in the way her breasts look or feel. This means that breast self exams are invaluable in catching breast cancer when it first develops. After the changes are reported to a GP, a clinical breast exam is usually carried out followed by further investigation such as through a mammogram, ultrasound, aspiration or biopsy.
Breast Self Exam
Breast self exams should be carried out every month so that women can become familiar with what their breasts look and feel like and also if any changes are noticeably related to their menstrual cycle. Many women prefer to carry out breast self exams the week after their period when their breasts are less tender.
To begin a breast self exam, women should stand in front of a mirror with their hands on their hips and look at all areas of the breast, then raise their arms and observe the breasts again. Anything that is an unusual size, shape and/or colour should be noted. Next, women should lay down, tuck one arm under the head and use the opposite hand to palpitate the breasts. This should be done lightly, then more deeply. If anything feels unusual it should be noted. The nipples should also be squeezed lightly to determine if there is any discharge. Finally, women should stand again, raise one arm over the head and again use the other hand to palpitate the breast. Many women find this most comfortable to do in the shower with the help of soap and water.
Clinical Breast Exam
If a woman notices anything unusual during a breast self exam, she should report it to her GP. Generally the GP will invite the woman in for a clinical breast exam. This means that the GP will look at and palpitate the breasts and underarm areas to determine if anything looks or feels unusual. If the GP believes that further investigation should be carried out, he will then refer the woman for further tests such as a mammogram or ultrasound.
Mammogram
A mammogram is an x-ray of the breast. To get the best picture, women must position their breast (with the help of a radiographer) on a tray. The breast is then compressed slightly by another tray that is lowered from above. Just before the x-ray is taken, women are asked to raise their arms above their heads and hold their breath for a few seconds. The x-rays are then taken and this same procedure is then repeated on the other breast. Usually a mammogram is composed of two x-rays: one taken from the top and one from the side. The resulting pictures allow medical professionals to see inside the breast to determine if tumours, calcifications or more are growing within the breast.
Ultrasound
Ultrasound scans are another way of viewing the inside of the breast. During these scans high-frequency sound waves are introduced to produce pictures of the inside of the breast, but because they are in real time the scans can allow both structure and movement to be shown. This can be usefully as it allows the blood flow inside the breast to be seen, so areas lacking blood flow can be determined. This means that ultrasounds are useful for determining the nature of an abnormality in the breast, supplementing mammogram's in routine cancer screening and guiding an aspiration or biopsy.
Aspiration
If it is determined that there is an abnormal mass in the breast, an aspiration may be carried out to help determine the make-up of the mass. During an aspiration a needle is inserted into the lump, fluid is drawn from it and then analysed to determine if breast cancer cells are present. This procedure is usually done on an outpatient basis and result times will differ according to location.
Biopsy
A biopsy removes a small sample of tissue for analysis. This removal can be done in a number of different ways. A fine needle aspiration is considered one type of biopsy. A core needle biopsy uses a thin, hollow needle to extract the sample. Usually multiple samples are taken at one time. A stereotactic core needle biopsy enlists the aid of mammogram's to help with needle placement. An ultrasound guided core needle biopsy enlists the aid of an ultrasound to help with needle placement. An MRI guided core needle biopsy uses an MRI to help guide the needle. A surgical biopsy is done in an operating room with sedation and may extract a part of the abnormal breast mass or all of the abnormal breast mass for further testing.
Diagnosing breast cancer is a logical process. When a breast change is noticed it is reported to the GP who will investigate and recommend further tests if needed. If a mammogram or ultrasound confirms a suspicious change then an aspiration or biopsy will be conducted to allow the cells of the breast to be analysed for cancer. If cancer is present in cells taken from the breast, then breast cancer can be confirmed.
You might also like...