Benefits of Breast Reduction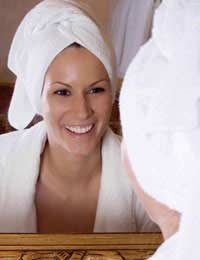 Women who elect to undergo surgical breast reduction, known more technically as reduction mammoplasty, may do so for physiological or psychological reasons, or possibly for both. Generally reduction mammoplasty is sought because having large breasts has negatively impacted on a woman's life, so they believe they will benefit from having their breasts reduced to a smaller size. Benefits of breast reduction then can be either physiological, psychological or both.
Physiological Benefits of Breast Reduction
Women who undergo surgery in order to reduce their breasts have fat, glandular tissue and excess skin removed from their breasts. At times, if a large amount must be removed, liposuction may even be employed during surgery. This means that the weight of the breasts is reduced. With less weight in the breasts many women can alleviate back, neck and shoulder pain. Finding bras that do not cut into the back or shoulders may become easier and engaging in physical activity, exercise and sport may become a real possibility. During exercise of warmer weather, having smaller breasts may even allow women to avoid skin rashes and infections.
Psychological Benefits of Breast Reduction
Women with larger breasts may feel very uncomfortable about their own bodies. Women can suffer from low self-esteem, low self-confidence and even from depression either due from their own negative body image or because others have repeatedly made them feel uncomfortable with their own body. Men who have gynaecomastia (abnormally enlarged breasts) may also seek reduction mammoplasty because of their own or society's views about how a man's body should look. Having their breasts surgically reduced then may help men and women fight depression as well as increase their self-esteem and self-confidence.
Dissatisfaction with Breast Reduction
The benefits of breast reduction will be different for every man or woman, however there are some people who undergo this cosmetic surgery and are dissatisfied with the results. Asymmetry of the breasts, or breasts that do not end up the same size, shape or fullness, is a risk of breast reduction surgery. Other risks such as visible scars, nipple numbness, tissue death and/or nerve damage (among others) can also lead people to be dissatisfied with their breast reductions. If individuals truly do not feel happy about their breasts following their surgery, they should speak with a surgeon to find out if there is anything to be done to treat and/or rectify the situation.
Breast reduction surgery can bring women, and men, a multitude of both physiological and psychological benefits. Less physical pain, a more active lifestyle, great feelings of self worth and less depression can all be results of successful reduction mammoplasty. However, there are potential risks, side effects and complications of surgical breast reductions that must be understood before surgery is undertaken. If individuals are dissatisfied with the results of a breast reduction and do not feel that they have benefited from surgery, then getting in touch with their surgeons to find out what they can do in the future is always an option.
You might also like...
@rashmi - I'm afraid we can't recommend specific specialists, so you would have to do an online search for breast reduction cosmetic surgeons and find out what they charge and what the recovery time is, they should have all the details on their websites. I hope this helps.
BreastAdvice
- 11-Mar-15 @ 2:52 PM
i m 34 years old. i belong to middle family. I want to know the approximate cost of before and after surgery including all check up and treatment etc. I also want to know the expected time for full recovery after surgery
rashmi
- 10-Mar-15 @ 5:29 AM