Preparing for and Recovering from a Breast Reduction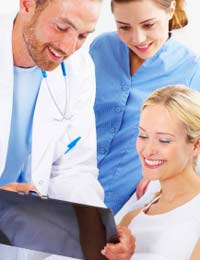 Breast reduction surgery is usually an elective form of cosmetic surgery. That is, women generally seek reduction mammoplasties themselves in order to alleviate physiological or psychological concerns. But just because women usually elect to have this surgery does not mean that it will make it any physically or emotionally easier for them. Instead, women should be careful to prepare for the surgery in the best manner possible and follow all instructions on recovering from a breast reduction in order to have the least stressful and most successful results possible.
Preparing for Breast Reduction Surgery
Preparing for breast reduction surgery usually involves both physical and emotional preparations. Women should be emotionally prepared to decrease their breast size and realise that surgery is stressful, and that it is alright to feel uptight in the days leading up to the surgery. Physically, a surgeon may request that the woman disclose her medical and family history, prepare a list of all medicines that she is taking, have a blood test and possibly even a mammogram.
The list of medications will help a surgeon determine if there will be any complications arising from them. A blood test is usually ordered so that the blood can be analysed such as for the number of rood blood cells present (too few red blood cells can be a sign of anaemia), the number of white blood cells present (elevated white blood cell counts can be a sign of infection) and/or if there is anything to suggest that the blood may have trouble clotting. A mammogram may be requested to help doctors determine if there are any breast health issues that should be addressed before surgery or that might make surgery inappropriate. At this time a surgeon may also inform a woman of any specific lifestyle changes to undertake in the time immediately before the surgery. Women themselves may also take time to prepare for the help they will need following surgery, such as arranging for time off work, child care and stocking up on any supplies that the surgeon may instruct.
Recovering from Reduction Mammoplasty
Recovering from reduction mammoplasty will involve discomfort, though the recovery period for this type of surgery is not overly long. Women who awaken from anaesthesia may feel nauseous or groggy, and all women will most likely have swollen breasts that are tender or sore. A drain may be placed in the incision. At this time women will be given specific instructions for drain and incision care. If the incision was closed with stitches, women will be advised about whether they will dissolve or need to be removed. Recovery time will vary from woman to woman, but in general bandages can usually be removed within a few days and most daily activities can be resumed in a week or so. However, women will generally be advised to wear a sports bra for several weeks or months, and each surgeon will issue further instructions on recovering from reduction mammoplasty.
Breast reduction surgery is usually sought to improve physical or emotional health, and though this cosmetic surgery is often elective it still requires careful preparation and recovery. Women interested in breast reduction surgery should discuss what will be required of them and what to expect both before and after the procedure with their surgeons.
You might also like...