Breast Reductions and Men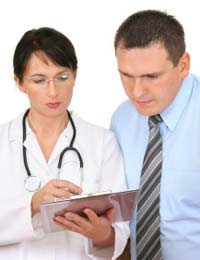 Some men have abnormally enlarged breasts, a condition that is call gynecomastia and for which many men seek cosmetic surgery. In fact, men seeking breast reductions is becoming increasingly common across the West. Men interested in this type of cosmetic surgery must first decide to have surgery, then decide on a surgeon and finally prepare for and recover from the reduction mammoplasty itself.
Deciding on Reduction Mammoplasty
Many men are bothered by having enlarged breasts, but this does not mean that reduction mammoplasty is the right choice for all of them. Instead, this surgery is best for men who are of a relatively normal weight, do not smoke or do drugs, have realistic expectations for their body, breast size and life after surgery, and can not treat their condition through weight loss or alternative medical treatments.
Deciding on a Surgeon
Selecting a surgeon is a decision that should only be made when all necessary information has been gathered. Men seeking a cosmetic surgeon to perform reduction mammoplasty should investigate a surgeon's qualifications, recent experience with male breast reductions and membership in professional organisations. Men will also likely want to ask surgeons any questions or concerns they might have about the surgery, and both the surgeon's attitudes and answers may factor into the decision making process as well.
Preparing for Surgery
Preparing for breast reduction surgery usually involves both physical and emotional preparations. Men should be emotionally prepared to decrease their breast. They will also need to share their personal and family medical history, disclose any medications that are taken and have a physical examination and blood test. A blood test is usually ordered so that the blood can be analysed such as for the number of rood blood cells present (too few red blood cells can be a sign of anaemia), the number of white blood cells present (elevated white blood cell counts can be a sign of infection) and/or if there is anything to suggest that the blood may have trouble clotting. At this time a surgeon may also inform a man of any specific lifestyle changes to undertake in the time immediately before the surgery. Men themselves may also take time to prepare for the help they will need following surgery, such as arranging for time off work and stocking up on any supplies that the surgeon may suggest.
Male Breast Reduction Surgery
Most male breast reduction surgeries are carried out under general anaesthesia. For some men, liposuction may be the primary means of removing fatty tissues which have increased their breast size. Other men may have an incision made around the areola or in another pattern and fat and other tissues removed via the incision. Some men may have both. If needed, the nipple will be re-positioned and the areola re-sized. The incision with then be sutured (stitched) closed and the man brought to recovery.
Risks of Male Breast Reduction Surgery
As with any surgery, there are some risks of male breast reductions. Excessive bleeding, an inability of the blood to clot, infection, asymmetry of the breasts, scarring, tissue death and nerve damage are a few potential complications. A surgeon will be able to discuss all possible risks and complications before surgery is carried out.
Recovering from Breast Reduction
Recovering from breast reduction will involve discomfort, though the recovery period is fairly short. Men may awaken from anaesthesia feeling sick or groggy. The breasts will most likely be tender, bruised and swollen. If the incision has been closed with stitches that must be removed, this is usually done within a week. Recovery time will vary, but most men can return to their daily life in a week or two. Exercise or vigorous physical activity should be put off for longer. Usually following a breast reduction a man will wear a pressure garment for a few weeks, and then for several weeks longer only at night. Following the surgery, a surgeon will issue more specific instructions to be carefully followed.
You might also like...
Bypassing any of the physical issues, the psychological factors can be really strong, as moobs, to use that term, can make a man feel far less masculine and lower self-esteem. The long terms effects can be very detrimental, making the surgery more than worthwhile for many people. Even without the greatest physique in the world afterwards, no feeling embarrassed to remove your shirt can be a huge psychological boost.
Edward
- 7-Jun-12 @ 1:29 PM