Breastfeeding and Breast Reduction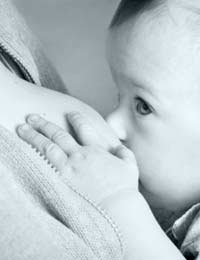 Breastfeeding following a breast reduction can not be guaranteed, but there is not necessarily a guarantee that a woman couldn't breastfeed following such cosmetic surgery either. If a woman who would like to undergo a breast reduction also wants to breastfeed in the future, she should notify her surgeon of this desire as soon as possible so that any possible accommodations can be made. Once you need to begin breastfeeding, let your doctor or lactation consultant know about your breast reduction so that, again, any necessary accommodations can be made.
Breast Reduction Surgery
Breast reduction surgery, also called reduction mammoplasty, requires the surgeon to make an incision though the type may be in a circle around the areola, a key hole pattern around the areola and extending vertically downwards, or an inverted T pattern. Fat, glandular tissue and skin are then removed either through the incision or via liposuction. The nipple may need to be repositioned afterwards, and the areola may even need to be resized. In most cases if the nipple and areola can be left intact with the tissues beneath them then breastfeeding will still be likely. However if the nipple must be removed and repositioned then nursing may no longer be an option given that nerve damage is more likely. Damage to milk ducts and even breast tissue required for allowing milk storage may also occur, rendering breastfeeding unlikely if not impossible.
Breastfeeding After Breast Reduction
If a woman is able to breastfeed following breast reduction surgery then the fact that she has had surgery will not impact on the quality of her breast milk. However, the surgery may have an impact on the processes of lactation and/or feeding a baby at the breast. Breast surgery such as reduction mammoplasty always runs the risk of nipple damage such as an inability to feel certain sensations or nipple numbness. Women who have had breast reduction surgery then should experiment with a number of different feeding positions and observe their breasts/nipples during nursing so that they can notice anything that looks unusual since they might not be able to feel warning signs of infection or problems with the baby latching on. Breast reductions surgery may also affect lactation in that there may be limited space for the supply of milk produced or stored within the breast. This may mean that there is not enough milk produced to satisfy a baby, or that a mother can not hold a typical amount of milk and must feed or express more often.
Some women who reduce their breast size by undergoing breast reduction surgery may be able to breastfeed, but some may not. If it is known that a woman wants to breastfeed then this should be made clear prior to surgery. Similarly, if a woman has had a breast reduction then this should be made clear prior to attempting to breastfeed. For more information about breastfeeding and breast reduction, contact a reputable cosmetic surgeon experienced in the procedure, a lactation consultant or another medical professional.
You might also like...