Common Questions About Breast Enlargements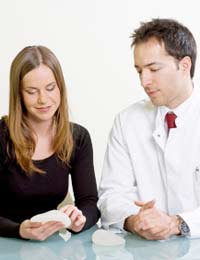 Breast enlargement is a type of cosmetic surgery to increase the size of a woman's breasts through the use of implants. Sometimes breast enlargement may be referred to as breast enhancement or breast augmentation. Today breast enlargement is one of the most common types of cosmetic surgery carried out around the world. Even though this type of surgery is common, many women only know the basics about breast enlargement. Below are some answers to common questions about breast enlargements.
What Happens During Breast Enlargement Surgery?
Breast enlargement surgery begins with a woman selecting an implant. This decision depends largely upon personal preference, but may also depend upon age. There are two options for implants: saline and silicone. Saline implants are filled with salt water and many women like them because they can be filled with more or less water to adjust the shape and feel of the breast. Silicone implants are filled with an elastic gel and are often chosen because they move and feel a lot like natural breasts. After an implant is selected, the surgery can be carried out. Breast enlargement surgery is usually conducted under general anaesthesia. First a small incision is then made either under the breast, in the armpit or near the nipple. Next the selected implant is inserted either under the chest muscle or over the chest muscle but behind the breast tissue. When the implant is in place, the incision is closed. Further instructions on how to care for recently enhanced breasts will be given following the surgery.
Do Breast Implants Feel Like Natural Breasts?
It is unlikely that a breast implant will ever feel exactly like a woman's natural breast before surgery, however implants do not need to feel obviously fake. Many women feel that silicone implants feel more firm than natural breasts, however how filled an implant is can also have an impact on the feel of the breast. An implant that is overfilled can feel too firm while an implant that is not filled enough can cause rippling. Where the breast implant is located - either under the muscle or above the muscle - can also have an effect on the feel of the breast.
Do Breast Enlargement Surgeries Leave Scars?
Breast enlargement surgeries do usually leave scars, but they are often very small and in well-concealed areas. Many women believe that rubbing topical Vitamin E into scars will help them fade but there is no medical evidence of this. Women should ask their doctors and nurses for information on how to best care for scars left from breast enlargement surgeries.
Are There Any Risks Associated With Breast Enlargement Surgery?
Yes, there are risks associated with breast enlargement surgery. Scar tissue building up by the implant, possible displacement of the implant, deflation of the implant, leaking from the implant, shifting of the liquid in the implant which causes rippling on the skin are all common risks associated with surgical breast enlargement. Women should discuss possible risks and complications of surgery with their doctors before making any firm decisions.
Can Breast Implants Be Damaged?
Yes, breast implants can be damaged. Injury to the implants can cause them to move or rupture. Implants may weaken over time and be more susceptible to injury. Women should be observant about the state of their implants and contact a doctor if they believe that any damage has been done.
Can Women With Breast Implants Still Breastfeed?
Breast implants do not necessarily rule out breastfeeding, but the type of surgery that has been conducted will influence whether or not breastfeeding is a possibility. Even if it is physically possible, women with breast implants may experience discomfort such as extra-sensitive nipples and/or exaggerated breast engorgement when milk is produced. Women will experience lactation and breastfeeding differently, so it must be remembered that breastfeeding is a personal decision for all women.
Where Can I Find Out More About Breast Enlargement?
Breast enlargement is best discussed with a cosmetic surgeon. Contacting the British Association of Aesthetic Plastic Surgeons (www.baaps.org.uk) will offer more information on surgeons in the UK.
You might also like...