What Is Breast Enlargement?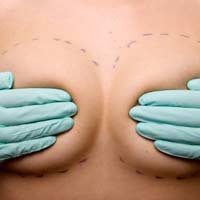 Breast enlargement is a type of surgery in which implants are inserted into a woman's chest in order to make her chest a larger size. Sometimes this kind of surgery is also called breast enlargement or breast enhancement, and it is one of the most common kinds of cosmetic surgery carried out in the Western world. Women choose to have surgical breast enlargements for a variety of reasons, and must remember to care for their implants for as long as they choose to have them.
Choosing Breast Enlargement
Breast enlargement surgery may be selected for many different reasons. Some women never felt comfortable with the size or shape of their natural breasts, some women may have lost breast volume after losing weight, and some women may decide to have implants as a way of reconstructing their breasts following a mastectomy. Some women may even choose this surgical option because they feel they need to look a certain way in order to survive in their chosen career or attract romantic attention. Whatever the case, women interested in breast enhancement should discuss their motivation with their surgeon in order to determine what type of implants will best fulfil their wishes.
Surgical Breast Enhancement
The type of implant a woman selects will depend largely upon personal preference. Saline implants are filled with saline (salt water) and can be filled with more or less water to adjust the shape and feel of the breast. Silicone implants are filled with silicone (an elastic gel) that moves and feels a lot like a natural breast. Regardless of the type of implant selected, surgical breast enhancement is usually conducted under general anaesthesia. A small incision is then made either under the breast, in the armpit or near the nipples. The selected implant is then inserted either under the chest muscle or over the chest muscle but behind the breast tissue. When the implant is in place, the incision is closed. Further instructions on how to care for recently enhanced breasts will be given following the surgery.
Caring for Breast Implants
Breast enlargement is not a matter of just one surgery. Women who live with implants must always be vigilant about their care and their overall breast health. Breast self exams should still be carried out monthly, and women should tell radiographers if they have implants before they undergo mammograms as part of routine breast screening. Because implants can leak, women should also regularly inspect the feel of their breasts/implants. Women with leaking saline implants can rest easy knowing that their implants will collapse and any escaped saline is absorbed and naturally expelled from the body while women with silicone implants will need to be more careful and contact their doctors if they feel their implants have been damaged because this type of implant may not collapse. Regular ultrasounds or MRIs may be recommended for women with silicone implants to track the condition of these implants.
A breast enlargement is a surgical procedure that uses implants to make a woman's chest larger. Women considering a breast enlargement should discuss their options with an experienced cosmetic surgeon.
You might also like...