Common Questions About Breasts and Health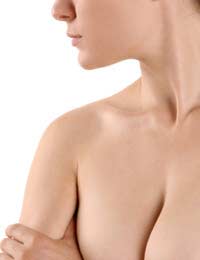 Many women live with their breasts their whole life without knowing much about them. This article offers some basic answers to common questions about breasts and health.
What Are Breasts?
Breasts are made up of mammary glands, connective tissue, fat and ligaments, though primarily of fat. This means that breasts often change size depending upon recent weight gains or losses. Breasts sit over the pectoral muscles of the chest, and each breast has a nipple with a surrounding areola. The nipple is the area through which milk passes when a mother breastfeeds a baby.
What Is Breast Cancer?
Breast cancer is cancer of the breast. It begins when cancerous cells are produced from the cells of the breast and invade breast tissue. Breast cancer may spread beyond the breast to other areas of the body as well. Sometimes such sites are referred to as secondary breast cancer. Breast cancer is the most common cancer in the United Kingdom with more than 44,000 women and about 300 men diagnosed every year.
How Is Breast Cancer Detected?
Breast cancer can be primarily detected via mammograms and external exams. Mammograms are x-rays taken of the breast, generally from the top and side, which allow doctors to see inside the breast. External exams allow doctors and individuals themselves to observe and feel the breast to look for signs of any possible changes. When used together, mammograms and external exams give individuals the best possible chance of catching breast cancer early and thus surviving.
What Other Conditions Can Affect Breasts?
There are a variety of benign breast conditions that can affect the breast which are non-cancerous abnormalities. Unfortunately these conditions can be painful. Fibrocystic breast condition, nipple discharge, benign breast tumours, cysts in the breast, breast inflammation/mastitis and fat necrosis (swelling of the fat in the breast) are a few such conditions. Any changes, swelling or discomfort of the breasts should be reported to a doctor immediately.
Are Breast Implants Bad For My Health?
Breast enlargement, otherwise known as breast enhancement or breast augmentation, is usually carried out by surgical means. Silicone or saline implants are the most common types inserted beneath the skin and some women worry that these implants could be bad for their health. While no surgery is without its risks and possible side effects, breast enlargement has become one of the most common cosmetic surgery procedures in the Western world and approved type of silicone and saline implants are generally regarded as safe to use.
Could A Breast Reduction Improve My Health?
A breast reduction or reduction mammoplasty removes fat, glandular tissue and skin from the breasts to reduce their size. Usually this surgery is undertaken because the woman, or man, in question feels that (s)he has overly large breasts that have negatively affected their physical or mental health. Again, while no surgery is not without its risk and possible side effects, most breast reductions are reported to improve the individual's overall health and wellbeing.
Is Breastfeeding Good For My Baby's Health?
Breast milk is considered the optimal diet for babies because it contains not only vital nutrients, but antibodies as well. In addition to these physical health benefits, breastfeeding is also thought to contribute to bonding between mothers and children which adds to the mental health and wellbeing of babies. For these reasons, many mothers and medical professionals feel that "breast is best" when it comes to feeding babies.
Is Breastfeeding Good For My Health?
In addition to allowing mothers and babies to bond, breastfeeding is believed to have a positive impact on mother's health. To begin with, breastfeeding burns approximately 500 calories per day which helps mothers lose some of the excess "baby weight" that has accumulated during a pregnancy. Breastfeeding is also understood to decrease the risks of breast and ovarian cancer.
Where Can I Learn More About Breasts and Health?
You're GP or local women's health clinic will be able to offer more information about breasts and health. Cancer Research UK (www.cancerhelp.org.uk) and the NHS Breast Screening Programme (www.cancerscreeningnhs.org.uk) will also be able to offer more information on breast health and breast cancer. Private medical insurance companies may be able to offer further information as well.
You might also like...