What Is Breast Health?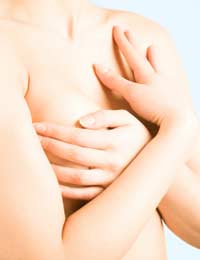 "Breast Health" is a catch-all term used to encompass all aspects of health as it relates specifically to the breasts. Though most often used in relation to women's health, men's breast health is also an important concern. In general, breast health includes topics such as breast cancer, breast enlargement and reduction as well as myriad topics that pertain to breastfeeding.
General Breast Information
Breasts are most visible on adult females, but males and other mammals all have breasts as well. Anatomically, breasts are composed of mammary glands, connective tissue, fat and ligaments. Each breast has a nipple, and surrounding the nipple is an areola. Breasts sit over the pectoral muscle and, in the case of females, a bra is worn to provide support. Because breasts are primarily made up of fat, they can expand and contract over time depending on an individual's overall weight. During pregnancy and breastfeeding, milk fills the breasts and makes them larger. Exams should be carried out routinely to search for any lumps or changes that may indicate breast cancer or disease. If the size of breasts is unsuitable for an individual, breast enlargement or reduction may be investigated.
Breast Cancer
Breast cancer is cancer of the breast. That is, cancerous cells that start from cells in the breast and invade breast tissue and may even spread to other areas of the body. According to Cancer Research UK, breast cancer is the most common cancer in the United Kingdom with more than 44,000 women diagnosed every year. Put another way, that is 100 women a day diagnosed with breast cancer. But breast cancer does not only affect women - approximately 300 men are diagnosed with breast cancer each year as well. Breast cancer rates have been improving dramatically and there is now a 9 out of 10 chance of surviving more than five years if breast cancer is caught early.
Breast Enlargement
Breast enlargement, sometimes also known as breast augmentation or mammoplasty, usually refers to a surgical method of making breasts larger. Most often this is done by implanting prostheses such as sacs of saline or silicone gel. Sometimes breast enlargement is undertaken to increase the size of both breasts for personal reasons, to increase the size of one breast if it was significantly smaller than another, or to reconstruct the breasts such as following a mastectomy. In terms of cosmetic surgery, breast enlargement is one of the most common procedures carried out in the Western world.
Breast Reduction
Breast reduction is a surgical method of reducing the size of an individual's breast or breasts. Sometimes this procedure is also known as a reduction mammoplasty, and it removes fat, glandular tissue and skin from the breast to make it smaller. Breast reductions are often undertaken because overly large breasts have caused an individual either physical or mental discomfort. Though breast reductions have traditionally been associated with females, men may now undertake breast reduction surgery as well.
Breastfeeding
Breastfeeding is a method of feeding an baby directly from a mother's breast so that the mother's milk is the baby's first source of nutrition. Breast milk offers babies a complex mix of nutrients and immunities that have yet to be replicated in formula mixtures, leading to the phrase "breast is best" when feeding infants. However, not all mothers can or choose to breastfeed, so the most important aspect of feeding an infant is making sure that he or she is eating enough, not necessarily how he or she is being fed. Doctors, nurses, midwives and other mothers are all good sources of support for mothers exploring breastfeeding.
Breast health touches on many different subjects. Breast cancer, breast enlargement, breast reduction and breastfeeding are just a few of the topics normally discussed in association with breast health.
You might also like...
Hi.my age is 35,now I have breast discharging.i took mamogram and hormone test all done.result is normal.but still discharging there.1 side brown colur,another side off white.when I squzze that time only coming.not regularly.pls give suggestion.thank u.
aruna
- 21-Mar-12 @ 1:30 PM