Common Questions about Mammograms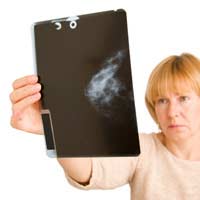 Many women are vaguely familiar with the term "mammogram" but don't know much about it. This article offers some basic answers to common questions about mammogram's.
What Is A Mammogram?
A mammogram is a tool used to detect early signs of breast cancer. At the moment mammogram's use low doses of x-rays to identify tumours in the breast that may be so small that they won't be able to be felt during an external exam for another year or more. Digital mammogram's, which will provide a more accurate electronic image of the breasts, are also in development.
How Do Mammogram's Work?
mammogram's are just like any other x-rays except for the fact that the breasts must be positioned to get the best picture. To do this, the radiographer (person who takes the x-ray) helps women position one breast on a tray which is then compressed slightly by another tray that is lowered from above. Just before the x-ray is taken, women are asked to raise their arms above their heads and hold their breath for a few seconds. The x-rays are then taken and this same procedure is then repeated on the other breast.
Are Mammogram's Painful?
Many women fear that mammogram's are painful because the breasts must be slightly compressed or flattened, but the truth is that the level of discomfort will differ for all women. Scheduling a mammogram for a time when breasts are known to be least tender, such as the week following a menstrual cycle, is usually a good idea. Taking an aspirin or ibuprofen prior to the mammogram may also help.
What About Women With Very Small Breasts?
Women who have very small breasts sometimes worry that they will be unable to complete a mammogram, but experienced radiographers will know how best to position any breast to get a good x-ray. If you are worried about the size of your breasts being a problem during a mammogram, let your doctor or radiographer know ahead of time.
What About Women With Breast Implants?
Women with breast implants may be concerned that the implants themselves will obstruct a clear view during a mammogram. Again, an experienced radiographer should be able to best position the breasts for the most effective x-ray, so let him or her know about your implants as soon as possible.
Who Should Have Mammogram's?
Women who have a family history of breast cancer should let their GP know and discuss when it would be best for them to begin having mammogram's. Otherwise it is generally acknowledged that age 50 is a good starting point for mammogram's. In the United Kingdom, the NHS Breast Screening Programme carries out mammogram's on women between the ages of 50 and 70 who are registered with a GP.
Do Mammogram's Take the Place of Breast Exams?
Though mammogram's generally take two pictures of the breast (one from above and one from the side), they are still only able to identify about 85% of cancers. This means that breast exams must be used in conjunction with mammogram's to make sure that the most effective screening methods possible are used.
Where Can I Find Out More About Mammogram's?
Your GP will be able to tell you more about mammogram's, as will Cancer Research UK (www.cancerhelp.org.uk) and the NHS Breast Screening Programme (www.cancerscreeningnhs.org.uk). Private medical insurance companies may also offer more information on breast cancer and mammogram's.
You might also like...