What Is a Mastectomy?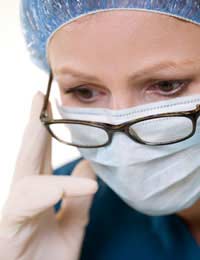 A mastectomy is a common surgical procedure used to treat breast cancer. Much of the general public may know of mastectomies as operations to remove a breast, but not much more than that. Below are some basic answers to frequently asked questions about mastectomies.
What Is A Mastectomy?
A mastectomy is a surgical procedure in which a breast is removed. Usually this means the entire breast including both the nipple and the areola, though there are different types of mastectomies that can be carried out depending upon the type, grade and stage of the breast cancer that is present. Some mastectomies may also be undertaken preventatively, or before breast cancer is present at all.
Are There Different Types of Mastectomies?
A variety of different types of mastectomies are available today to treat breast cancer. Simple mastectomies, also known as total mastectomies, remove the entire breast but leave the surrounding muscle and lymph nodes intact. Modified radical mastectomies remove the entire breast, lymph nodes under the arms and the lining of the chest muscle but leave the muscle intact. Skin-sparing mastectomies use a small incision near the areola to remove breast tissue but are able to leave the vast majority of breast skin intact with reconstruction performed at the same time. Subcutaneous mastectomies remove breast tissue but leave the nipple and skin intact. Partial mastectomies remove breast tissue and some breast skin as well as the lining of the chest muscle and some lymph nodes. Lumpectomies remove the tumour and some breast tissue as well as some lymph nodes. When both breasts are involved the procedures may sometimes be known as double mastectomies.
When Are Mastectomies Recommended?
Mastectomies were once the foremost treatment for all types of breast cancer, but today mastectomies are recommended for a variety of reasons. The size of a tumour, grade or stage of cancer, the presence of multiple tumours, a history of connective tissue disease, personal preference and more are all considered when mastectomies are recommended.
How Are Mastectomies Carried Out?
Mastectomies are carried out in an operating theatre, usually under general anaesthesia. Generally these surgeries take between two and three hours, though they may be longer if a procedure is extensive and/or complex.
How Should A Woman Prepare for a Mastectomy?
Before a mastectomy a woman's doctors will give her information on how to best prepare for the surgery. For their own peace of mind women may want to contact other breast cancer survivors who have had mastectomies or discuss their hopes and fears with a professional therapist. Breast care nurses are also available for such discussions.
What Should A Woman Expect After A Mastectomy?
How long a woman stays in hospital following a mastectomy will differ depending on the type of surgery carried out and the woman's general health. Generally women stay in hospital for a few days following such surgery. Painkillers will likely help as the anaesthesia wears off and physiotherapists often help women restore strength and movement. Once home, women should avoid strenuous activity for a few weeks. Specific instructions will be given by the surgeon who performed the mastectomy and/or other medical professionals involved.
Where Can I Learn More About Mastectomies?
Women interested in learning more about mastectomies should talk to their GP, a breast clinic or their medical team if they have been diagnosed with breast cancer. Women imminently facing a mastectomy may be able to talk to their breast care nurse and/or surgeon as well.
You might also like...