Possible Signs of Breast Cancer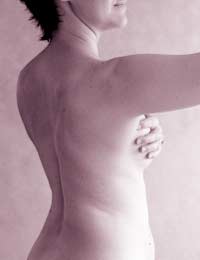 Breast cancer is one of the most common cancers found worldwide and affects over 44,000 women and about 300 men per year in the United Kingdom. Though breast cancer can be terminal, if it is detected early then the chances of survival rise greatly. This means that women should conduct breast self exams at regular intervals, become familiar with the look and feel of their breasts, and report any changes to their doctors for further investigation.
Possible Signs of Breast Cancer
The most common warning sign of breast cancer is a lump in the breast. However, most women experience cyclical breast changes related to their menstrual cycles so lumpiness is not always indicative of cancer. In fact, about 90% of all breast lumps are non-cancerous and due to things such as cysts (benign, fluid-filled sacs) and fibroadenomas (benign tumours made up of glandular tissue). However, there are other signs that may be related to breast cancer as well. Changes in the size or shape of the breast, change in the shape of the nipple, a nipple that becomes inverted, discharge from the nipple, a rash on the nipple or breast, dimpling of the breast skin, swelling of the breast or armpit and/or a lump found in the armpit are all possible signs of breast cancer that women may notice on their own.
Early Detection via Breast Self Exam
In order to detect any changes in the breasts as early as possible, breast self exams should be carried out every month. Many women find that the week following their period is a good time as breasts are least sensitive at this time. However, at no time should a breast self exam be painful. In fact, unexplained breast pain should be reported to a doctor.
To conduct a breast self exam women should simply look at their breasts in the mirror. With their hands on their hips women should look for anything that seems to be an unusual size, colour or shape. Women should also note if overall the breasts look swollen and/or if there are any changes to the skin of the breasts such as dimpling or puckering. Observing if the nipples have changed positions is also important. Following these observations women should raise their arms above their heads and look at their breasts and nipples again. Then, women should gently squeeze the nipples to see if there is any discharge. Women this is finished, women can lay down, put one arm behind their head and use the opposite hand to touch that breast using the pads of two fingers. It is advised that women sweep over all of the breast, first touching slightly and then more deeply. When you have completed this, sit or stand up and do the same thing over again. Many women find that conducting this part of the exam in the shower with the aid of soap can be helpful.
Reporting Changes in the Breasts
Women should track the results of their breast self exams and report changes that last longer than one month to their doctor. Prior to one month the changes may be due to changes in the menstrual cycle. If changes in the breasts are reported most doctors will perform a clinical breast exam in which they palpitate the breasts and underarm areas. If they feel lumps that they believe may be unusual then mammogram's (x-rays of the breasts) are usually recommended. If these pictures confirm an unusual lump in the breast then further investigation via ultrasound, needle aspiration or biopsy will likely be required.
You might also like...