Breast Cancer and Family History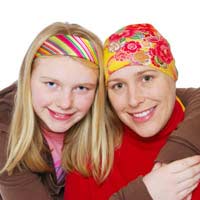 Having a significant family history of breast cancer is known to increase the risk of an individual developing the disease. In fact, the National Institute for Health and Clinical Excellence (NICE) has published guidelines on family history criteria that increase the risk of breast cancer. These guidelines classify women into risk categories and offer recommendations for further information. However, even if a woman does not fit into a category that denotes the need for further investigation, genetic testing for a predisposition to breast cancer may be an option if it is believed that a family history of breast cancer may impact her own health.
NICE Classifications
"Familial breast cancer" is the term that NICE uses to describe the situation when breast cancer is in a woman's family. However, about 1 in 10 women will develop breast cancer before the age of 80 so having a relative or even two who have had breast cancer does not necessarily indicate a significant risk of developing the disease. If a significant number of family members have had breast cancer then it is said to be familial and may be attributable to a gene such as BRCA1, BRCA2, TP53 or PTEN.
NICE classifies women as having a higher risk of breast cancer than the general public if they have had a close female relative such as a mother or sister diagnosed when they were 40 or younger, two or more close relatives (such as a mother, sister or daughter) from the same side of the family diagnosed, 3 close relatives from the same side of the family diagnosed, a father or brother diagnosed, a mother or sister diagnosed in both breasts before the age of 50 OR one close relative diagnosed with ovarian cancer and one with breast cancer (one of whom must be a mother, sister or daughter). Of course these are only guidelines, so women who believe that they need further investigation should visit their local breast clinic to discuss their specific situation.
Genetic Predisposition to Breast Cancer
The genes known to be related to breast cancer are BRCA1, BRCA2, TP53 and PTEN. However, testing for these genes can only confirm that they are present, not that they absolutely indicate that breast cancer will develop. Those who should be tested for these genes are women who have a strong family history of breast cancer. In the UK, NICE guidelines stipulate that women with a high risk of developing breast cancer should be tested but there may be private options for women who do not meet these criteria but would like the tests carried out anyway.
These tests are based on blood, so blood samples are required, and they are easier to carry out if a relative who has had breast cancer donates a sample as well. When results are in, women should discuss them with experienced medical professionals and think hard about all of their options. At the moment there are three main responses to a positive genetic test: to have regular breast screening, to have pre-emptive surgery to remove the breasts or to join a trial prevention group. Which response is right for any particular woman will need to be discussed with her doctors.
A family history of breast cancer may increase a woman's risk of developing the disease. Women who know blood relatives who have had breast cancer should report this information to their doctors and discuss what it may mean for their own lives and health.
You might also like...