Radiotherapy and Breast Cancer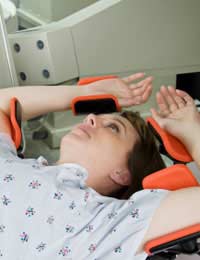 When a woman is diagnosed with breast cancer the treatment options available to her generally depend upon the type of breast cancer that is diagnosed, the stage of breast cancer diagnosed and the grade of breast cancer diagnosed. Some of the more common treatment options include surgery such as mastectomy (removing the breast) or lumpectomy (removing the cancerous part of the breast), chemotherapy, radiotherapy and/or hormone therapy. Radiotherapy, in which radiation is used to kill cancerous cells in the breast, is often used as a back up method of treating breast cancer after a woman has had a surgery. In this way radiotherapy becomes a type of prevention in that it will hopefully kill any remaining traces of cancer that was not excised during surgery.
Radiotherapy as a Treatment Option
Radiotherapy is a means of using radiation to seek out and kill cancerous cells. This works because radiation damages cells that are dividing, and cancerous cells tend to divide more frequently than non-cancerous cells. For the most part radiation is not used on its own, but rather after a breast surgery in order to seek out and kill only those cells that could not be removed during the surgery. This is particularly true following a lumpectomy as surgeons will attempt to leave as much breast tissue as possible and following the surgery with radiation can help to put to rest any lingering doubts about cells that could not be reached. However radiotherapy may also be used on the chest following mastectomy if doctors believe that some cancer cells may still be present.
Accessing Radiotherapy
Women who choose to treat their cancer with radiotherapy will travel to hospital to access this treatment. The radiation is delivered via a machine known as a simulator while a woman lies on a special table or bed. The radiotherapist may mark out on ink the areas that the radiation must hit, and will then help women to get into position. The radiotherapist will then leave the room and women will be left alone for the few minutes it takes to turn on the simulator and deliver the radiotherapy. Further instructions will be given about when the next appointment will be, and most courses of radiotherapy are broken down into daily appointments or appointments every other day. How long these courses continue will depend upon each individual. Further instructions about eating, bathing and socialising will be given during the course of radiotherapy.
Side Effects of Radiotherapy
Radiotherapy itself is generally painless, and many women report feeling nothing at all during their treatments. However, there are some common side effects of radiotherapy. Feeling tired, loss of appetite or trouble eating, skin reactions, sore throats, difficulty swallowing, feeling a slight shortness of breath and overwhelming or constantly changing emotions may all be linked to radiotherapy. Doctors and radiotherapists can all explain potential side effects of radiotherapy in greater detail.
When a course of radiotherapy for breast cancer has been completed, a woman will discuss her long-term prognosis with her doctors. A woman will be labelled as in remission when no trace of cancer can be found in her body, but women who have survived breast cancer will need to be careful about screening for recurrences of the disease for the rest of their lives. Consistent breast self exams, clinical breast exams and attending for mammography are all methods for women to keep track of any changes in their breasts. Each woman will likely be given a plan for her future following breast cancer at the end of her radiotherapy sessions.
You might also like...