Choosing to Have a Breast Prosthesis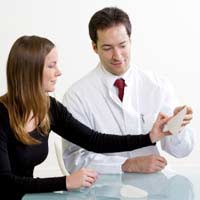 Women with breast cancer may need to, or choose to, undergo a complete breast removal that leaves them contemplating whether they want to surgically reconstruct the breast, wear a breast prosthesis or neither. For many women, a breast prosthesis makes the most sense for their lifestyle. A breast prosthesis, sometimes also called a breast form, is an insert that can be slipped into the bra or swimming costume to create the look of natural breasts.
Deciding on Breast Prostheses
Breast cancer can be treated in may ways but surgical options such as a mastectomy or lumpectomy are common. After such surgeries a woman may choose to have surgical inserts to reconstruct the breast, but many women prefer not to undergo further surgery. Instead, many women choose to wear breast prostheses because they are quick, easy and painless. Many prostheses are even specially made for women who have had recent surgery so that their tender skin is not hurt by the insert. A variety of other accessories can be worn with breast prostheses as well in order to increase how lifelike the breast forms look, including plastic nipples.
Types of Breast Prostheses
There are many different types of breast prostheses available today and they may be fitted in hospital or by a private, specialised supplier. Silicone, foam and fibrefill are common materials in breast prostheses and some prostheses may even come with adhesive backing so that they can be stuck to the skin rather than slipped into a bra or specially designed garment. This can be particularly helpful for women who have shirts or dresses that can not be worn with bras or for women who can wear bras but appreciate the extra security of the adhesive. Partial prostheses or breast shapers are also available for women who have had a breast-conserving mastectomy and want to even out the size or shape of their breasts. Such a partial prosthesis can be made from a variety of materials, including silicone, as well.
Wearing Breast Prostheses
Wearing a breast prosthesis should never cause a woman pain. Instead, prostheses should be able to be worn and forgotten about. A wide range of lingerie, night wear and swim wear is available specifically for women who wear breast prostheses, and sew-in pockets can also be purchased for women who want to wear a more mainstream bra but still have a secure place to slip their prosthesis. Because prostheses can add weight to a bra, these inserts can cause bras to dig into a woman's shoulders. Different types of shoulder pads are sold to help deal with this situation.
Further Information on Breast Prostheses
For further information on breast prostheses, women should talk to their doctors and may want to talk with other women who have decided to wear breast forms as well. Getting in contact with specialist prosthesis retailers and breast cancer support organisations may also be helpful. For women contemplating mastectomy, discussing this option with a specialist breast nurse and/or their surgery teams may also be an option.
You might also like...