Supporting Loved Ones With Breast Cancer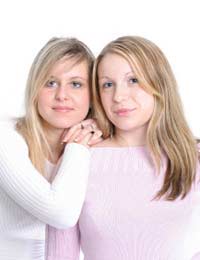 Being diagnosed with breast cancer can be devastating. Women suddenly worry about their health, their life expectancy, what type of treatment to select, if they will need a mastectomy, if they will have to undergo chemotherapy, what type of lifestyle changes they will need to make and how they will keep their life going while making all of these decisions. Thankfully there is much that friends and relatives can do to help women during these times. Supporting loved ones with breast cancer can take many forms, all of which are important whether they are explicitly thanked or not.
Gathering Information
Helping women to gather information about breast cancer is like walking a fine line. Many women welcome new information about the disease, treatment options, support groups and more, but only to a point. If it begins to feel like information is being forced on them or that they are overwhelmed with information then they may no longer want help. Sticking to just a few respected sources, such as the Breast Cancer Campaign (www.breastcancercampaign.org), can help everyone involved stay on the same page and trust the information that they receive without being inundated by conflicting information.
Offering Support
When all necessary information has been gathered and it comes times to make decisions, women need to feel supported in their choices. For example, if a woman chooses to have a mastectomy she may already be worried about the surgery, how she will feel about the loss of her breasts, how she will look if she chooses to reconstruct the breasts - or not - and will not want the added pressure of worrying about if others think she is making the best decision. Similarly, if a woman chooses to undergo chemotherapy she may be worried about side effects like hair loss, fatigue and nausea and how she can continue her life during treatment. Helping women to feel supported in their decisions, and life in the aftermath, is an important way relieve pressure and stress from their lives.
Being There
Most women who have been diagnosed with breast cancer appreciate someone who can simply be there for them. Whether this person attends appointments with her (mammograms, biopsies, etc.), goes shopping for her, helps her with physical therapy after surgery, looks after her children, cooks for her or just lets her cry, scream or vent, having someone solid who will be there no matter what can be incredibly uplifting. It may be that a woman will not ask for this help, but will appreciate it when it is offered or simply given.
Supporting loved ones with breast cancer can take many forms. From words to actions, there are probably as many different ways to support a loved one with breast cancer as there are women diagnosed with breast cancer. In order to provide the best support possible, finding out what a particular woman needs, wants or would otherwise appreciate is important. Offering these things when they are requested, and even when they are not, is key.
You might also like...