Breast Screening and Implants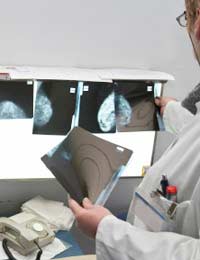 Many women who have had breast implants worry that they will not be able to be adequately screened for breast cancer because the implants will obscure the view during a traditional mammogram. Though this is technically correct, implants may obscure the view of the breast from certain angles, for the vast majority of women who have implants can still benefit from breast screening with an experienced radiographer. Having implants is not a reason to avoid breast screening and mammograms.
Mammograms and Implants
Mammograms are x-rays of the breast. Generally when a woman has a mammogram done her breast is put on a tray, another tray is lowered on top, and pictures are taken from the top and side. When women with breast implants attend for mammograms they should alert their radiographers immediately to the fact that their breasts have been enlarged. Radiographers need to know what type of implants have been used so that they can adapt their mammogram techniques to get the best x-ray that shows the greatest amount of breast tissue possible.
Mammograms and Implant Care
Some women worry that the pressure of a mammogram will harm their breast implants. This is not usually a worry, but again, women with breast implants must ensure that their radiographers are aware of them so that the x-ray techniques can be adjusted as needed. Women should also remember that a mammogram is not a check on the state of their implants, so if they believe that their implants need care they should seek other medical attention. If women believe that such attention is needed then they should also alert their radiographer so that they can discuss if a mammogram is really the most appropriate method of breast screening for their particular case.
Implants and Mobile Mammogram Units
Women who have breast implants should not have their mammograms carried out in mobile screening units if at all possible. This is because mobile units do not necessarily carry equipment for processing the x-ray films, whereas central units do so the films can be reviewed without delay. For women with breast implants it is important to review the films as soon as possible, optimally while the woman is still on site, so that if the amount of breast tissue showing is not enough then another mammogram can be carried out for a better view. Having to re-do a mammogram should not be a cause of worry for women, but rather they should feel confident that their radiographer is intent on getting the most successful set of x-rays possible and therefore protecting their health to the fullest extent they can.
Women who have undergone breast enlargement and have had implants surgically implanted should not shun mammograms. These x-rays are still a successful method of screening for breast cancer once they are adapted for use with implants. To make sure that all necessarily adaptations are carried out, women should inform their radiographers if they have breast implants, the type of implants that they have and if they have any fears about the state of the implants.
You might also like...
I have been trying (and failing!) to find a list of things to look out for if you have a breast implant. It is really frustrating not knowing if my symptoms could point to cancer or not. Just in case anyone can help I have noticed that my augmented breast has grown considerably recently, I have sharp pain where my surgery scar is and other pain in the breast. I had my surgery ten years ago, I have seen a doctor who had no idea so I'm waiting for a referral. I'm really panicked though, just wondered if anyone had any advice. Thanks