Swimsuits and Breast Support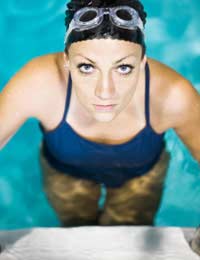 Traditionally swimsuits have not offered much breast support. While this might be alright while women are swimming, it is not so good for when women are on dry land. Today swimsuits are synonymous with an active lifestyle, one in which breast support is an important component for both comfort and health. Women in the market for a new swimsuit should consider how well the suit will support and minimize movement of the breasts, allow women to move freely and keep from chaffing the skin during activities.
Supportive Swimsuits
Many swimsuits only come equipped with a lining so there is very little breast support in them. However, some swimsuits have a built-in shelf bra which acts a little bit like a sports bra. These shelf bras generally feature an elasticated band that runs under the breasts as well as wider straps that help keep the suit close to the skin. Between the band and straps the breasts are then supported and movement of the breasts is reduced. Some swimsuits also feature cups with underwires to keep the breasts supported. In bikinis these tops are quite like a bra in a waterproof fabric, while in one piece suits the cups may either be hidden behind other fabric or simply extend down into the suit.
Swimsuits and Free Movement
Swimsuits must allow for free movement since the actions of major swimming strokes require a wide range of movement. In some aspects this simply means that women will need to try on the suits to see if it rides up on the legs when they extend their arms, if the armholes are wide enough to allow for a full range of movement, etc. However there are also a few things to look for in any swimsuit to make sure that it will allow for safe coverage yet also some physical activity. Swimsuits should feature more horizontal stretch than vertical stretch, covered hooks or snaps that won't rub against the skin, seams that are small and do not run anywhere near the nipple, wide straps and, ideally, a quick-dry fabric.
Swimsuits and Skin Chaffing
Swimsuits are obviously meant to get wet, so this means that there is a great risk that an ill-made, unsupportive swimsuit could chaff the skin if it retains moisture for too long. Swimsuits made with fabric that does not "breath" or otherwise allow for air circulation runs the same risk. With so many seams (leg holes, arm holes, back, straps, etc.) there are many potential areas for concern. To avoid such a situation, swimsuits in quick-drying fabrics should be chosen, swimsuits should not be worn for extended lengths of time and wet swimsuits should be allowed to dry thoroughly before being worn again.
Today's swimsuits offer a wide variety of choices, but women looking for the healthiest suits should investigate the way a suit has been made rather than how it looks. Women should look for suits with built-in bras and/or underwire cups to support their breasts, suits that allow for a free range of movement to avoid any unwanted exposure, and suits in a quick-dry, well cut fabric that will prevent chaffing. To find a suit that includes all of these qualities a visit to an experienced swimsuit retailer is recommended.
You might also like...
If one can afoard a triathlon swimsuit; one should purchased one. They offer excellent support while running and swimming. I have seen too may incidents that starting out females run in plain one piece swimsuits. Like mentioned in this web page, this type of sportswear only has a liner that can't properly support the breasts. One young lady was overheard how "hammered" her breasts felt after the running segment. This was her first full race.
Cal
- 25-Oct-14 @ 7:25 PM