Fashion Choices to Minimise Larger Busts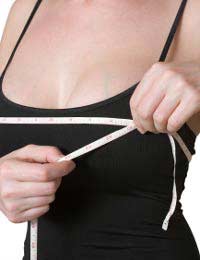 A woman with a larger bust may sometimes like to play down this feature, and there are many easy fashion choices to help her do this. Higher necklines, layered tops, wearing the correct size, flared skirts and even large earrings are all fashion choices that help minimise a larger bust or draw the eye away from the bust area.
Higher Necklines
Higher necklines help women with larger busts minimise this area in that they cover it. Clothes with crew neck, boat neck and even v-neck necklines are all fashion choices that keep breasts relatively well covered with fabric and draw the eye up to the neckline rather than to the bust itself. Wrap tops and dresses, in which the neckline is dictated by the way the fabric wraps at the waist, may be good options if the neckline can be made higher than the bust. Plunging necklines should be avoided.
Layered Tops
Women with larger busts may find that layering clothes helps them minimise this area as well. Double layers of tops, such as two t-shirts or a blouse over a tank allow women to make the most of colours and patterns without sacrificing coverage of their breasts. Wearing unbuttoned cardigans, blazers and other jackets also directs the eye to the outer layer rather than the layer directly over the bust. Blazers and jackets that are slightly boxy also help minimise a larger bust in that they tend to make shoulders appear wider which helps to de-emphasise the bust.
Wearing The Correct Size
Wearing clothes that are too tight will only draw attention to a larger bust, but wearing clothes that are too loose will do the same. This is because wearing clothes that are too loose tend to gape, bag and fall forward. When this happens at the bust it makes it look larger. Instead, women with larger busts should buy clothes to suit the largest part of them, whether it be the shoulders, bust or stomach, and then have those items tailored to fit correctly in other areas.
Flared Skirts
It might not seem like it, but what a woman wears on her bottom half can influence her top half as well. Women with larger busts should seek out flared or A-line skirts as these items will give them a more balanced silhouette. This more balanced silhouette will likely draw the eye away from the bust and thus help women de-emphasis this area.
Large Earrings
Larger earrings will also help minimise a larger bust by drawing the eye away from it. Long, dangly, brightly coloured and sparkly earrings are all attention-seeking pieces. Others will notice them, and thus their eyes will be draw towards the neck and above. However, women who wear large, eye-catching earrings should be sure to keep their other accessories more muted or they run the risk of looking overwhelmed by them.
Minimising a larger bust takes just a few smart fashion choices. Wearing higher necklines, layering clothes, wearing the correct size, wearing flared skirts and selecting larger earrings are all ways in which women with larger busts can minimise this area if they so desire.
You might also like...