Fashion Choices to Maximise Smaller Busts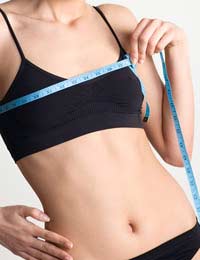 A woman with a smaller bust may occasionally desire to maximise this area and today there are a variety of fashion options that can help women maximise smaller busts. Wearing a push-up bra, wearing lower necklines, wearing decorated clothes, tucking in tops and wearing necklaces which highlight the bust can all help women maximise smaller busts.
Wearing A Push-Up Bra
A push up bra is one that offers extra support beneath the breasts so that the bust is lifted, separated and pushed up. This makes the bust look larger and fuller. Padded bras, in which extra padding is available all over the bra to make it look larger, can also help maximise a smaller bust. Often such padding is made from fabric, though gel or water inserts can also be used in push-up bras to create a more natural shape. Some inserts are sold separately from bras and can be used to make any bra into a push-up bra.
Wearing Lower Necklines
Women with smaller busts can highlight this area by wearing lower and plunging necklines. These necklines help to show more skin at the bust and thus draw the eye to this area. V-neck and wrap tops can also be good for showing off more of a smaller bust, while crew necks and boat-necks should be avoided. Cowl necklines, in which swathes of fabric fall forward from the neck to cover the bust, can also be a good option as the excess fabric falls right at the chest.
Wearing Decorated Clothes
Decorated clothes come in and out of fashion, but for women with small busts they should always have a place in their wardrobe. Tops which have writing, logos, pockets, patterns, embroidery, sequins, ruffles or more across the chest will all help to draw the eye to this area as well as create the illusion of more size at the bust. Even when they are out of fashion, decorated clothes are a must for women interested in maximising a smaller bust.
Tucking In Tops
Tucking in tops may not always be in fashion either, but by creating a more tailored silhouette women with smaller busts can really highlight this area. By tucking in tops, women create more slender waist and therefore a more womanly, curvy silhouette. These curves make a woman look more busty. A similar silhouette can be created with wrap-dresses and tops as well as adding a belt to trousers and skirts.
Wearing Necklaces Which Highlight the Bust
Long and large necklaces will help women wishing to maximise smaller busts to add visual interest to their chests. Much like tops with decorations, necklaces help draw the eye to the bust and add extra interest at this area. However, women who do choose to wear bold necklaces should be sure to keep their other accessories minimal and subtle. Too many large or chunky accessories can overwhelm a woman.
Women interested in maximising smaller busts have many fashion options to do just that. Wearing a push-up bra, wearing lower necklines, wearing decorated clothes, tucking in tops and wearing necklaces which highlight the bust are all easy fashion choices that women can make to maximise smaller busts.
You might also like...