Wearing a Sports Bra: Is it Important?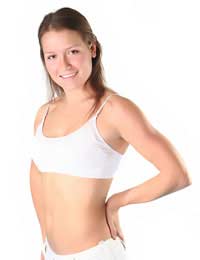 Sports gear is big business. Women routinely buy specific trainers for a particular sport, name brand outfits to go to the gym and accessories, from water bottles to yoga blocks, to support their favourite activities. But one item that many women forget when they begin to exercise is a sports bra. Below are some basic answers to frequently asked questions regarding this key undergarment.
What Is A Sports Bra?
A sports bra is an undergarment specifically designed for women to wear during sport, exercise of other physical activity. These bras are usually more restrictive (fit more closely and/or feel a little tighter) than a normal bra and may be made of one piece of fabric rather than two distinct cups with a band and straps. Generally fabrics are made from stretchy fabrics as they need to allow for movement and may be worn by slipping over the head.
Why Are Sports Bras Important?
Sports bras are important because they minimize movement of the breasts during vigorous activities. It has been estimated that during high-energy, high-impact sports women's breasts can move up to ten or more centimetres which means that anatomically there is not much natural support. Sports bras can provide this support as well as allow sweat to be wicked away and reduce chaffing of sensitive skin or nipples. For women who consistently run or jump these factors can go a long way towards avoiding or alleviate breast pain as well as fighting a sagging of the breasts.
How Can I Pick The Right Sports Bra?
The right sports bra depends upon three main factors: the activity in which you will engage, the size of your breasts and your fashion needs. However, the only real way of knowing which sports bra is right for you is to try it on. If you are new to sports bras then purchasing two or three different models will help you get a good idea of what is out there and how they suit your needs. Once you discover your preferred bra type you can stock up.
Are There Any Hallmarks Of A Good Sports Bra?
Regardless of the make or model of a sports bra there are some hallmarks that will alert you to a good (or not so good) possibility. Good sports bras will feature a supportive band under the breasts, more horizontal stretch than vertical stretch, covered hooks or snaps that won't rub against the skin, seams that are small and do not run anywhere near the nipple, wide straps and a breathable or sweat-wicking fabric. Sports bras that do not offer these features should be avoided.
When Should I Wear A Sports Bra?
As their name implies, sports bras are great for wearing during organised sport sessions. However they are also important for support during any physical activity, including working out in the gym, taking an exercise class, doing heavy lifting at home, working in the garden or at any other time that you feel your breasts are not supported. For women experiencing breast pain, wearing a sports bra might be a good idea to see if the extra support can help alleviate it. Some women even wear two bras (two sports bras, one bra and one sports bra) to see if that will help minimize movement of or pain in the breast.
How Often Should I Replace My Sports Bra?
A general rule of thumb is that sports bras should be replaced after about 100 wears or one year of consistent use, whichever comes first. However, don't wait to replace your sports bra if you notice that elastic is frayed, there are rips or tears in the fabric, the arm holes or straps are stretched or you feel that it is not providing the same amount of support and stabilisation as it did when it was first purchased. If you're in doubt, err on the side of caution and invest in a new sports bra.
You might also like...