Information About Wearing the Right Bra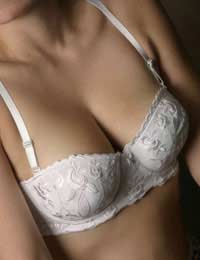 Though the vast majority of women wear a bra every day, and some at night, few are aware of how important their choice of undergarment really is. Not only are there health implications to wearing the wrong bra, but not every bra fulfills the same needs nor are sized in the same way. To get the most out of every bra, women should first determine their bra needs and then determine their bra size - even if it changes throughout the month or year.
Importance of Wearing the Right Bra
Wearing the right bra has a direct effect on women's health. Women with larger breasts who do not get the right amount of support can suffer from neck and back pain. Women who wear bras on which the straps or bands are too tight can suffer from pain in the shoulders and ribcage. Women who wear bras that are too loose can suffer from pain if their breasts shift repeatedly and women who choose not to wear bras at all can suffer from sore nipples where they rub other fabrics. All of these conditions are avoidable, or at least can be alleviated, with a bra that fits correctly.
Signs of an Ill-Fitting Bra
Before women rush out to invest in new bras they should take a minute to put on each of their existing bras and observe if there are any signs of an ill fit. Pinching straps or bands, missing or loose hooks, breasts that spill over the top or sides of the cups, and cups that bag or sag around the breasts are all signs that a bra does not fit a body correctly. However, women should try their bras at different times of the month as the menstrual cycle can sometimes affect breast size.
Determining Bra Needs
The type of bra that a woman wears should depend upon three factors: the size of the woman's breasts, the type of clothing that a woman wears and how active the woman is. Usually women need a range of bras to suit the many different combinations of these factors. However, it only makes sense that the majority of a woman's bras should suit the majority of her clothes and the majority of activities that she undertakes.
Determining Bra Size
Women who are not certain of their bra size should be measured by an experienced bra fitter. To measure at home, women should first measure their chest directly under the breast and add 5 inches/12.7 centimetres to this measurement. This is the measurement for finding the correct band size. Next, women should measure around their chests at the fullest part of the breast. To determine cup size, women should subtract their first measurement from their second measurement. A difference of .5 inch/1.25 centimetres is an AA cup, of 1 inch/2.5 centimetres is an A cup, of 2 inches/5 centimetres is a B cup, of 3 inches/7.25 centimetres is a C cup and so on. Most bra retailers will be happy to help you decipher your measurements as well.
Wearing the right bra is necessary for a woman's health and well being. For more information on the right bra for their body, women should visit an experienced bra fitter and retailer.
You might also like...
I am suffering from breast discharge after attending age. Discharge looks like clear sometimes yellow and it comes from both breast. while experiencing it first time i suffered from severe pain since tat discharge stick to my cloth. Now i am 21yrs old I am suffering from this offenly and around more than 5times i suffered from this. I embrassed what it would be. and i noticed a small hard place when i touch my right side breast. tat hard place is locatedjust above the black skin around the nipple. please dont forgot to reply me.
kar
- 28-Jan-13 @ 6:08 AM